Scale RC Airplanes
Detailed miniature versions of full-scale airplanes!
Scale RC airplanes are modeled after Real Airplanes. RC pilots across the world are by far the friendliest bunch of people you will ever meet.
But make no mistake about it, RC pilots are quick to tell you that the airplanes they fly are just as real as full-scale airplanes! Full-scale planes are the ones you ride in!

| | |
| --- | --- |
| A proud man indeed! | Rudder Controls |
| | | |
| --- | --- | --- |
| Are those real rivets? | Everything the pilot needs! | Cooper Bomb Rack |
There is something about scale airplanes that sets our imagination free. Just as a child pushes his toy truck pretending to be driving the real thing, we "Big Kids" are just as fascinated by building radio controlled planes and pretending to be full-scale pilots flying our favorite airplane through the air!
All scale model airplanes are miniature models of the full-scale version. An RC flyable scale airplane will fall in one of three categories based on how closely the model resembles the full-scale version.
These three categories are true-scale, semi-scale, and standoff-scale.
True Scale RC Airplanes
True scale airplanes are exact replicas of a full-scale airplane, except for the size of course. The level of detail that can go into a true-scale airplane can be staggering!
Steve's airplane here is a 1/6 scale version of the Royal Aircraft Factory S.E.5 WW1 British fighter. This bird has a Wingspan is 53" and she weighs in at 8lb 9oz. It took the builder 2 1/2 years of patience and hard work to create this fine looking RC scale aircraft!
If you take a look at the mind boggling detail that went into every square inch of this airplane, you will quickly understand why it took nearly three years to build!
Heck, I'd be afraid to fly it. Talk about an adrenaline rush!
If you want a scale RC Airplane as detailed as the one above, you're gonna have to build it from a kit or build it from scratch using a set of scale model airplane plans. You're never going to find an ARF of and RTF RC airplane with that much detail!
Semi-Scale Airplanes

Semi-scale planes look very much like the full-scale version, but are not exactly the same. The airframe of a semi-scale RC airplane may be slightly different from the full-scale version to improve flight characteristics.
The Parkzone T-28 Trojan is a perfect example of a semi scale airplane. The airframe has been modified slightly to make it fly better as an RC airplane. But unless you are an expert, you would never be able to tell.
Are your looking for a scale airplane that flies well and don't take 2 1/2 years to build? A semi-scale (also known as sport-scale) airplane may be the right choice for you!
Standoff Scale RC Airplanes
Without a trained eye, it is difficult to tell the difference between a scale and semi-scale model. It is pretty easy to spot a stand-off scale airplane. A Stand-Off scale plane is made to resemble the full-scale version while standing off at a distance. But if you look at it closely it is nothing like the full-scale version.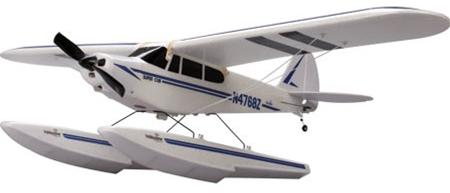 Many small electric planes, such as HobbyZone's Super Cub, are considered stand-off scale airplanes.
Stand-off scale airplanes are great if you're not a stickler for detail and want a scale looking airplane that you can get in the air with minimal work.
Scale RC Airplane Sizes
RC scale aircraft come in all different sizes ranging from peanut scale to giant scale RC airplanes and everything in between.
Peanut Scale Airplane
Peanut scale RC airplanes are defined as model airplane with a wingspan of 13 or less. Peanut scale models have traditionally been free flight models only. A free flight airplane has no radio equipment. After it is launched, it flies freely without your control until it lands. Many are powered by a rubber band.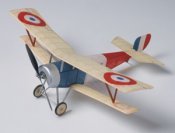 Companies such as Micro Invent have been pushing the envelope by producing smaller and smaller working electronic components that are allowing hobbyists to be very creative with converting free-flight peanut scale airplanes to tiny flyable scale airplanes!

Giant Scale RC Airplanes
Giant Scale RC Airplanes are quite the opposite of Peanut scale! Some of these airplanes are literally large enough to ride in. Although I wouldn't suggest trying it!
The International Miniature Aircraft Association(IMAA) sanctions Giant Scale flying events in the US. An RC aircraft must be a true quarter scale RC airplane, or have at least an 80 wing span to be considered Giant Scale by the IMAA. A bi-plane must have a minimum of 60 wing span. So the next time you see a plane advertised as IMAA legal, you'll know what that means!
And believe it or not, there are large scale radio control airplanes even larger than that!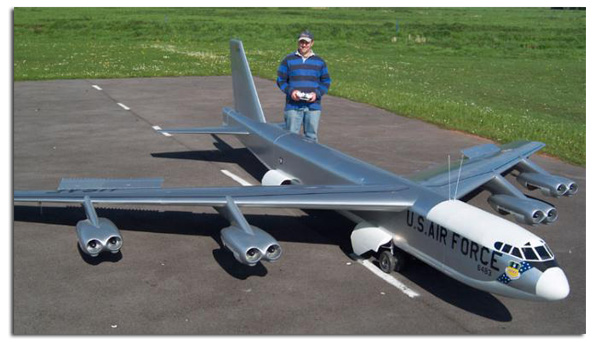 The above GIANT scale B-52 has a wingspread of 22 feet and weighs 265 pounds when fueled! This monster is powered by 8 turbine engines that cost nearly a couple grand a piece!
Typical Size Scale Airplanes
While Peanut-scale and Giant-scale airplanes are at the exteme ends of the spectrum, most RC scale aircraft fall somewhere in between.
It's easy to find out to what scale a particular scale airplane is built. Simply divide the wingspan of the model airplane by the wingspan of the full-scale airplane to get the ratio. You could actually use any dimension you would like, but the wing span is typically the easiest to measure.
For example, if your scale model airplane has a wingspan of 5 feet and the full-scale airplane has a wingspan of 25 feet, then the model is 1/5 scale.
Flying Scale Models
Flying Scale Models
is a bi-monthly publication geared exclusively towards scale model aviation. This includes radio control, control line, and free flight planes ranging from tiny indoor birds to gigantic ships!
This model airplane magazine will give you tips and techniques to build your very own scale version of just about any type of airplane imaginable! The fully colored pages throughout shows you crisp images of the mind-boggling detail that goes into spectacular scale airplanes!
Show us YOUR scale RC Airplane!
It's always a treat to see what other RC addicts are flying. If you have any type of scale RC airplane, we'd sure love to see it!

If you're gracious enough to share, your bird will be featured in the slide show on the home page!

Please try to include the following points:



Airplane Model

Wingspan
Weight (with engine and radio)

ARF, Kit or Scratch

Engine

Radio System

How does it fly?


See other contributions!

What Other Visitors Have Contributed
Click below to see contributions from other visitors to this page...



You may like the below pages as well...