ParkZone Airplanes

ParkZone Airplanes are ready to fly in a matter of minutes!
After spending weeks building an RC airplane from a kit or even assembling an ARF, I'm so scared of crashing that I end up flying around like a grandma.  What fun is that?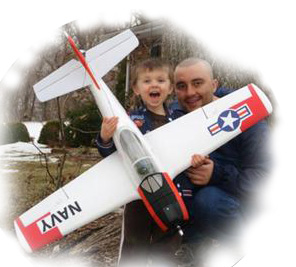 ParkZone airplanes are a totally different story. They are practically ready to fly right out of the box, and they fly great!

And the best part? They take a lick'in and keep on tickin!
When you do crash (and you will), you can usually glue it back together in a matter of minutes. If glue can't fix it, replacement parts are readily available and a decent price.

ParkZone came onto the scene a few years ago with the release of the ParkZone T28. Up until this time foam airplanes where thought of as crappy little toys, or at best a decent quality profile plane.
The high performance and quality of the T28 was a game changer.
ParkZone has since released a ton similar constructed high performance warbirds.  They've released an entire line of micro flyers, and have even released a high performance ducted fan jets capable of speeds upward of 80 mph!


Ready to Fly,Bind and Fly,and Plug N Play
ParkZone airplanes come in three different forms. Ready to Fly (RTF), Bind and Fly (BNF) and Plug and PLay (PNP).
The RTF version comes with everything you need to fly, including the transmitter.
A BNF version (my personal favorite) comes with everything you need to fly except a DSM2 transmitter. If you have a DSMS radio, you simply bind it to the receiver in the airplane and you're ready to fly.
PNP version include the airplane, motor, servos, and ESC. You have to provide the transmitter, receiver, and battery. This is great for those who have a Futaba 2.4Ghz radio or any other non DSM2 systems. You can even use your trusly 72Mh2 radio systems with the PNP versions.


ParkZone Warbirds
 Building upon the success of the T-28, ParkZone developed an entire line of powerful, resilient and affordable RC fighters. These planes looks so realistic that it's hard to fathom that they're constructed from easy repairable foam.
If you're looking for a high performance electric powered scale warbird at an affordable price, ParkZone is the obvious choice.
| | | |
| --- | --- | --- |
| | Messerschmitt Bf-109G | |


Scale/Aerobatic Planes
ParkZone airplanes make it possible for the average flyer to own a very solid performing aerobatic airplane without having to mortgaging the house.

It is simply amazing what these airplanes below are capable of with a skilled pilot behind the sticks, and these planes will make YOU a skilled pilot with a little practice.



ParkZone Gliders
The Parkzone Radian is a very popular glider that's been on the market for several years. She's equipped with a powerful 480 size brushless motor to get her in the air.
The motor also comes in handy when you're having a difficult time finding thermals to ride.
The original Radian was a three channel glider with throttle, rudder and elevator control. The Parkzone Radian Pro requires a 5-channel radio system as it utilizes throttle, rudder, elevator, aileron and flaps!

ParkZone Ultra Micro Flyers

These ultra micro ParkZone Airplanes can be flown just about anywhere. They're great for those of us who have a small backyard and they're absolutely perfect for flying in a gymnasium.
I have the ultra micro Sukhoi, T-28 Trojan, micro-4 site, and night vapor. I also have the larger Parkzone T-28 and I find it amazing how similar the micro version flies just like the big one.


Discontinued ParkZone Airplanes
 As the new planes hit the shelves it's inevitable that some of the older ones be discontinued. The following is a list of ParkZone airplanes have have been discontinued.
| | | |
| --- | --- | --- |
|  Focke Wulf | Spitfire RTF |  Typhoon2 |
| | | |
| --- | --- | --- |
|  Ember RTF |  Micro Cessna 210 RTF |  Micro Citabria RTF |

Related Pages

Home › ParkZone Airplanes
Top of ParkZone Airplanes