Some Information About Me
Hello,
I'm Matt Brown, the guy obsessed with RC airplanes that loves working on this site. I thought you guys might be interested in knowing a little bit about me and why I started this website.
We tend take it for granted these days, but the fact that human beings build contraptions that allow them to fly around like birds has always completely amazed me. The idea of humans strapping themselves to huge rockets that propel them into orbit where they dock with an international space station is mind boggling. If you would have told someone 20 years ago that we have robots roaming around Mars sending back video feed they'd think you were nuts!
My love for Aviation is what led me to attend Purdue University. Did you know that over 20 astronauts graduated from Purdue including Gus Grissom and Neil Armstrong? When doing some research freshman year I learned that the job market for aeronautical engineers wasn't very good at all. So I decided to pursue mechanical engineering graduating with my Bachelor's degree in 1999. After college I went to work as a mechanical engineer at North American Stainless, a steel mill in Carrollton
In 2013 my wife and I bought into a franchise called Fibrenew. We specialize in Louisville leather and vinyl restoration.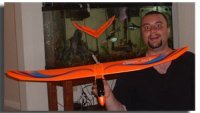 At a family picnic on July 4th, 2003 my uncle did something my wife will never forgive him for. He got out his little 3 channel foam RC airplane and let me fly it. From that moment on I have been hopelessly addicted to RC airplanes! I went straight home, hopped on the computer and ordered my first RC airplane, a three channel ParkZone Aerobird!
The closest club to Carrollton is about 50 minutes away in Louisville KY. So I decided to learn how to fly it on my own. Man was it frustrating. I went though a half a dozen sets of wings and 2 fuselages. I'm embarrassed to admit that one of them even got away from me. We looked for that darn thing for hours but never found it. I'm glad I can laugh about it now, because it wasn't funny at all at the time. I was determined to learn to fly that darn thing and stuck with it until I did!
After I mastered the Aerobird I decided it was time to get a glow powered trainer, a SigLT 40. I decided it would be worth the 50 minute drive to the club in Louisville to learn to fly this RC plane safely. Glow powered planes are a lot more expensive and much more dangerous. I wouldn't recommend anyone trying to fly a glow powered RC airplane for the first time without help from an experienced pilot.
Joining the club was one of the best things I've ever done. Not only do the guys go out of their way to help me, there are tons of different airplanes to watch every time I make the trip! I made that 50 minute drive every weekend, many times twice a weekend. I couldn't get enough!
My son was born in the fall of 2005. Flying RC airplanes is awesome, but having a son is even better! You can see the little guy with my Great Planes Cap 580 in the picture to the right when he was only a couple of months old.

As you might imagine, it wasn't long before I didn't really have the time or money to make it to the flying field very often...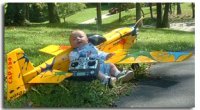 I discovered SOCOM and played a lot of video games in my spare time for a couple of years. My PSN name is RC-Wings, send me an invite if you have a PS3! Although video games are great and I still play'em, it wasn't doing anything to quench my desire to fly RC airplanes!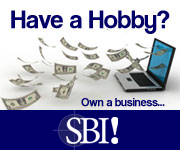 In 2007 I stumbled onto Site Build It!. It was exactly what I needed! SBI provides me the tools and knowledge to create a successful website about something that I'm truly passionate about. Not only does this keep me involved with the hobby by sharing my knowledge with others, I finally have the money for flying again!
To be honest, I don't know what's more fun, working on this website or actually flying my airplanes. I love promoting the hobby and helping people get started with RC airplanes.
SBI gave me an entire new outlook on life. It really is hard to believe you can make decent money working on a website about something you're passionate about.
My wife was very skeptical of my initial investment of $300 to start the website. ok ok, she thought it was another hair-brained idea of mine and a waste of money. After seeing the amount of money rolling in from simply writing about something I love, her attitude has changed a bit. She recently started her own site about Tropical Fish!
My son is almost four and I'm pretty sure I have a future RC pilot on my hands. Here is a picture of him and "his" ParkZone T-28. I think it broke his heart when he figured out that "his" controller didn't have any batteries... Can't sneak anything past a 3 year old can ya?

I can't wait until he's old enough to fly for real. We are definitely working on it! He loves my flight simulator. I let him control the throttle and rudder while I keep the airplane in the air. He absolutely loves it!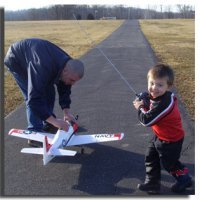 Recently I've been flying smaller electric planes that can be flown safely here at the local park. When my son gets a little older I may start flying my glow powered planes a little more. I love spending time with my family and working on this site, which doesn't leave much time for the 50 minute drive to the flying field on a regular basis.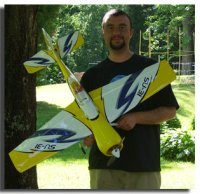 I used to consider myself a die-hard glow powered pilot, but I think I've have been converted, lol.

All you have to do is charge the batteries and fly. No oily mess, no fuel to buy, no dead-stick landings because of an uncooperative glow engine.

The electric RC planes on the market today are simply amazing. A few short years ago when I first started flying RC airplanes, you pretty much had to have a glow powered plane if you wanted a plane with power. Lipo batteries and brushless motors have changed all of that!

The plane I've been flying mostly this summer is a Great Planes E-Performance Series SU-31. This plane is simply amazing!
I don't claim to know everything about flying RC airplanes and I am far from being a great pilot. But I can say that I am completely addicted to flying RC airplanes and I love promoting the hobby. If you have any questions at all feel free to drop me a line!