ParkZone T-28 Trojan
After hearing all the great reviews and about ParkZone T-28 Trojan , I couldn't resist buying one for my self. Boy was I blown away by just how powerful this little gal is.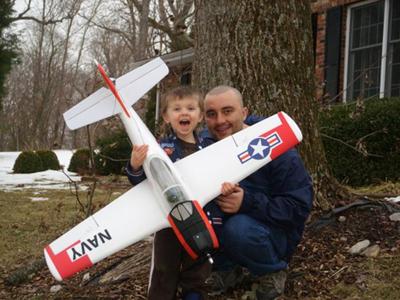 She has just as much pep as some of my glow powered airplanes, not to mention a heck of a lot cheaper. I actually paid less for this fully ready to fly airplane including radio system, motor, ESC, than I have paid for some of my four stroke engines alone!
Don't get me wrong, glow powered planes will always have a special place in my heart, but this is the plane that convinced me that electric RC airplanes can have just as much spunk and agility. But I digress...
When I picked it up I planned on putting it together that night and flying it the next day. To my surprise, it only took about 15 minutes to assemble. I ended up flying it the same day I picked it up!
Unlike my glow planes, the ParkZone T-28 Trojan is made with Z-Foam. It's a very strong, lightweight, durable material that resembles Styrofoam but is much easier to repair. It has a very shiny surface that really makes it look sharp.
ParkZone T28 vs T28D?

You've probably noticed the ParkZone T-28D to the right has a completely different color scheme as mine.

The only difference between the original and the "D" version is the color scheme.

The ParkZone T-28D is no longer being produced...

Wondering what the "D" actually stands for?

The U.S. Air force began using North American T-28A's as a military trainer in 1949, replacing the T-6 Texans.


The U.S. Navy began using the T-28B in 1952. The engine in the T-28B was almost twice as powerful as the original. (Seems to me the original ParkZone T-28 with the Navy Scheme would have been called the T-28B?)


The T-28B became the T-28C when it was equipped with arresting gear for landing on aircraft carriers.


In the early 1960's, the wings were modified to mount weapons and the T-28D became the armed version of the Trojan.
In a nut shell, the "D" designates the latest version of the Full-scale Trojan that carries fire power!


Quality Re-useable Components

Buying either the BNF or PNP ParkZone T-28 is a good investment as the following components can be used with future airplanes. If you add the cost of each component you will see that the ParkZone T-28 really is a heck of a deal.
Brushless Outrunner Motor

She comes with the powerful factory installed 480 brushless outrunner motor.
Electronic Speed Controller

No need for time consuming and confusing programming of the ESC. All you need to do is simply plug the motor into the pre-programmed 25-AMP electric speed controller and your ready to go.
Li-Po Battery

The 11.1V, 1800mAh Li-Po battery provides a high level of power and performance!

If you're flying aggressively, this bird averages around 6 to 7 minutes per flight. If you lay off the throttle for an easy and relaxing flight you can expect to get around 8 to 9 minutes.
Balancing Li-Po Charger
This plane comes with a balancing charger that greatly extends the life and performance of the Li-Po battery pack by making sure each cell is charged equally.
Li-Po batteries have the potential to be dangerous if changed incorrectly. This charger was designed with the beginner in mind as it takes all the guess work out of the procedure.
No dials or settings, just connect the battery to the charger, push the button, and it will let you know when the battery is charged! It's almost impossible to screw up with this charger...
This charger plugs directly into the cigarette lighter of your car so you can recharge as many times as you'd like while in the field.
Is This the Right Plane for You?

If you're new to the hobby and have someone to help you with your first couple of flights, this plane should be on the top of your list when choosing your first plane.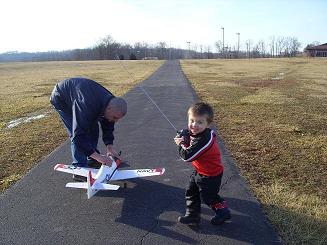 It comes with everything you need, which is very convenient and cost effective for a beginner. It's extremely stable and very easy to fly.
This is one of the rare RC planes that is fun for all pilots, regardless of experience. I have been flying for years, and this airplane is now one of my favorites simply because it's hassle free to fly and it performs!
I gave my son an old controller so he thinks he's controlling the T-28. Well, it worked for a few days until he opened the battery compartment and yelled "Daddy, mine's broke, it don't have batteries"...
Three year olds are smarter than you think!
Bind-N-Fly vs PNP

Since I already owned a Spektrum DX6i radio, I opted for the Bind N Fly (BNF) version which comes with a Spektrum AR600 DSMX 6-channel receiver already installed.
If you already have a transmitter that's DSMX compatible, no problem. Just pick up the PNP version that comes with everything except for the receiver.
ParkZone T-28 Trojan BNF

$239.99


ParkZone T-28 Trojan PNP

$179.99

Ultra Micro T-28

If you don't have much room to fly, you should take a look at the Ultra Micro Parkzone T-28.

I have one of these as well and it's almost scary just how similar the two behave in the air. You can fly this little guy just about anywhere.
Check eBay

It never hurts to check eBays listings below as you may stumble upon an awesome deal.