Choosing an RC Flight Simulator
A good RC flight simulator can be purchased for less than the price of many ready to fly RC airplanes. If it prevents just one crash it has already paid for itself. Consider a simulator an investment with valuable returns!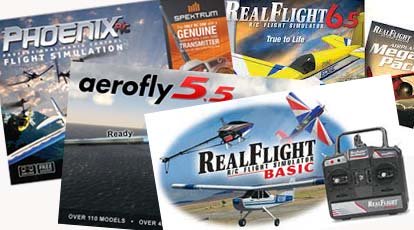 The key to learning how to fly RC airplanes is to train your brain to control the airplane regardless of its orientation. This is where a simulator is worth its weight in gold for the beginner pilot!
Simulators not only help new pilots learn to fly, even the professional pilots use RC simulators for perfecting aerobatics and preparing themselves for the next competition. They're an absolute necessity for practicing those low altitude 3D maneuvers.
What's the Best RC Flight Simulator?

Ah, that's definitely in the eye of the beholder. If you ask four RC pilots what their favorite flight sim is, it is very likely that you'll get four different answers.
Two of the most popular are Great Planes RealFlight and Horizon Hobby's Phoenix Flight Simulator. Both are top of the line and you will not be disappointed with either.
Aerofly Pro and FS One are also cutting edge RC airplane flight simulators. You can probably attribute marketing for the reason why they aren't quite as popular as the first two mentioned.
Great Plane's RealFlight

RealFlight G.5

G.5 Great Plane's RealFlight has been the number one selling RC flight simulator for the past 13 years. If you want the latest and greatest with all the bells and whistles then you'll want to check out Great Planes Realflight 6.5 , the latest version of the popular simulator.
RealFlight G6.5 comes with an InterLink Elite controller that is based upon Futaba's 6EX transmitter. If you have an internet connection you can fly with up to 31 other RC pilots.
You can create a user profile to share your flight hours logged and points accumulated in online Combat Events. This simulator marries the competitiveness of online gaming with flying RC, my two favorite past times!
Find Best Prices for RealFlight G5...
RealFlight Basic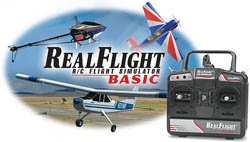 You can pick up Great Planes RealFlight Basic for about half the price of G5. This less expensive version of RealFlight features many of the aircraft and flying fields of RealFlight G4.5 and Expansion Packs.
Real Flight Basic also includes a realistic USB controller. This is really a great value if you're looking for a state-of-the art simulator and can live without all the bells and whistles such as online competitions etc.

Find Best Prices for RealFlight Basic
Phoenix Flight Simulator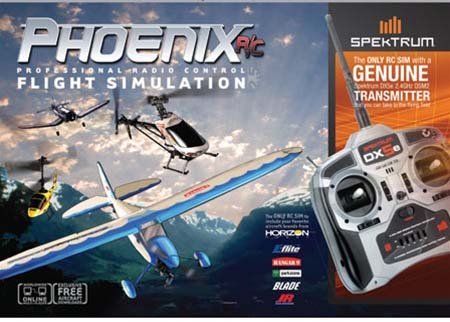 Horizon Hobby's Phoenix simulator actually comes with a fully functionally Spektrum DX5e transmitter that can be used with the many bind-n-fly models on the market. It's the only sim on the market that comes with a functional transmitter.
This RC airplane sim has over 100 realistically modeled aircraft from JR Heli, E-flite, Blade, Hangar 9 and even ParkZone. You can fly with RC pilots across the world with a broadband internet connection.
Phoenix-sim.com continually offers free downloadable scenery and aircraft add-ons. Give the Phoenix Flight Simulator a test spin it a try for free by downloading the demo here.
Aerofly Pro Deluxe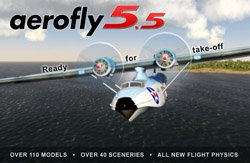 For all you Mac lovers out there, this is the only quality flight simulator that will run on a Mac without Bootcamp. And it will work with Windows as well.
Aerofly 5.5 has over 110 airplanes to choose from including heli's, gliders, float planes, jets, you name it. This RC flight simulator comes with over 40 different flying fields.
Like the other major sims, Aerofly also allows you to voice chat, fly, and even compete with other pilots in various contests through an internet connection.
Aerofly doesn't come with a controller. You can buy adapters to use with most all brands of transmitter.
Free Simulators

If you'd rather not pay for one of the commercial state of the art simulators, there are some free RC Flight simulators available do download and use for free.
You will need a controller to use with these free simulators.
Follow this link for more information on free sims and controllers

Related Pages...

Home › RC Flight Simulators