Giant Scale RC Warbirds
Giant Scale RC Warbirds used to be reserved for those with the desire, skill, and time to build and sculpt their pride and joy from the ground up via a kit or set of plans.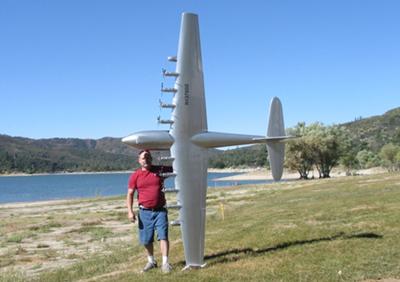 Thanks to the increasing quality of today's ARF's, those of us without the time or desire to accomplish such a feet can assemble a bird to nearly the same detail and quality.
Whether you build from scratch or assembly an ARF there's nothing more satisfying watching or flying a radio controlled airplane that's nearly large enough to carry the family dog!
If you or or buddy's have a killer Giant scale plane, please share below!
Tell us about yours!
If you or your buddies have experience with a GIGANTIC Scale ARF, Kit, or even scratch built giant we'd love to hear about it.

What Other Visitors Have Said
Click below to see contributions from other visitors to this page...

Scratch Built Waco YMF-5

118 inch WS 48 LBS Built from a Peter Barth Kit. Great kit all CNC Router cut parts fit great DA150 Engine JR 11 X radio with power safe receiver Flies …

Jim's Scratch Built RC Spruce Goose

This is my scratch built h-4 spruce goose. It is 12ft wingspan, weight is 48lbs and it flies on 8 E flight 32's and castle 60 amp speed controls and 4 …

Hangar 9 Sukhoi SU-26MM Not rated yet
Wingspan 122 inches. Mike McConville is one of my favorite designers. Be sure to follow him on Facebook as he's always sharing something new he's …
Top Flite

If you're looking into buying a Giant Scale Warbird, I'm fairly certain you're familiar with Top Flite. Probably the most well know manufacturer of RC airplanes and accessories in the world...
Giant P-51D Mustang

Top Flites Gold Edition P-51 kit has as been a top choice for P-51 fanatics for quite some time. But it wasn't until recently that Top Flite unveiled its ARF version of the most recognized warbird of all time!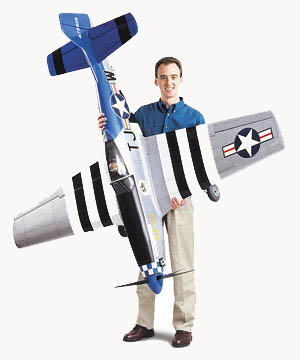 The Top Flite Giant P-51D Mustang ARF comes with heavy-duty fixed landing gear, but is set up for optional Robart retracts with fully functional landing gear doors.
It's a snap to upgrade from fixed to retractable gear as the mounting bolt pattern for both is the same!
IMAA Legal Wingspan of 84.5"
She can be powered with a 41-70CC gasoline engine.
Giant 47D Thunderbolt

The largest, heaviest, and most powerful single-engine fighter of WW2 was affectionately known as the  "Jug" since the fuselage shared a striking resemblance to the old-style milk jugs of the day.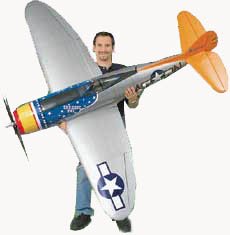 The ARF version comes with gorgeous covering a trim scheme in a addition to the highly detailed cockpit.
The kit is very popular build with good clear instructions.
The Ready to Cover (RTC) is the perfect option for those who wish to cover the plane with their own scheme but don't have the time for the build.
As with the Mustang, the fixed stock landing gear can easily be replaced with a set of Robart retracts.
IMAA Legal Wingspan of 84.5"
She's best powered by a gasoline engine in the 50cc range.

Giant Corsair

This bent wing legendary WW2 carrier fighter stifled the Japanese military with a kill ratio of 11:1.  The Japanese called this beast the "Whistle of Death".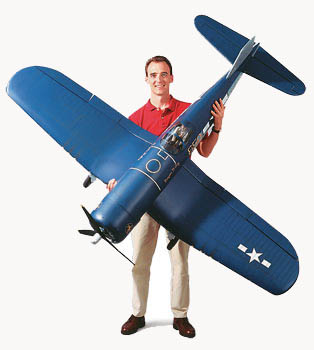 The ARF version is a good choice If you're not up for the challenging aspect of building this gull shaped wing.
As with all Top Flite's Gold Edition ARFs you won't be disappointed with the quality build and fine details of the covering and cock pit.
The kit version is an awesome project for those of you who like to build.
This bird is also designed to accept a set of Robart Retracts.
IMAA Legal Wingspan of 86.5"
Requires a 50cc to 55cc gasoline engine.

Giant Supermarine Spitfire Spitfire

The Figher that Saved a Nation was this single-seater British warbird instrumental in defending Great Britain from the Germans during the infamous Battle of Britain.
Again, you'll be impressed with the level of detail and craftsmanship that goes into a Gold Edition ARF. But what really makes this bird stand out is the accurate true to scale realistic split flaps.

IMAA Legal Wingspan of 86.5"
Requires 55CC Gasoline Engine

Related pages...