WLtoys Q303 Drone
WLtoys Q303 Drone is the perfect AFFORDABLE RC quadcopter for getting started with FPV.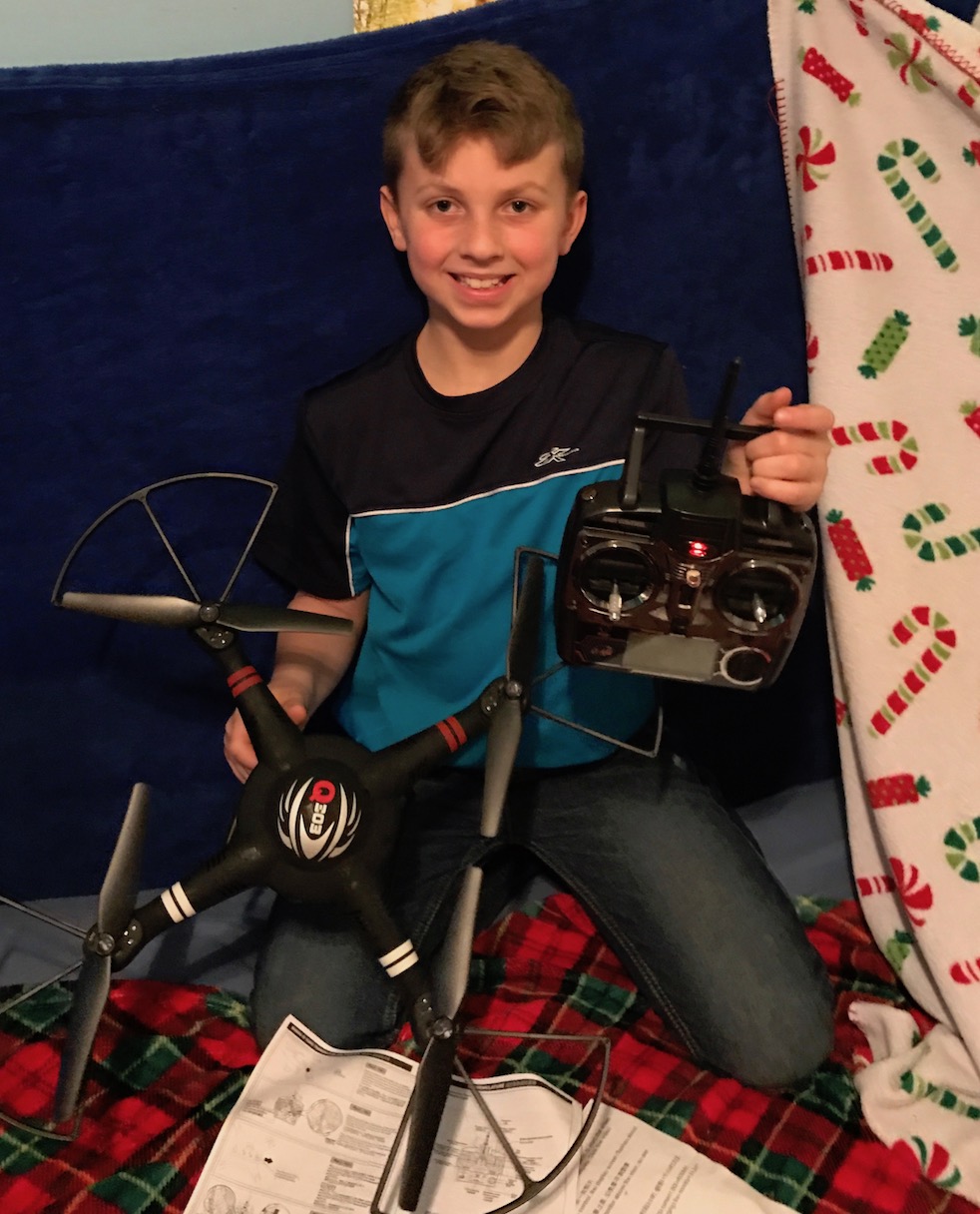 I will have to admit that I was very skeptical of the price of $120 for a completely ready to fly FPV quadcopter.  But man, I liked it so well I ended up buying two. 
(Why did I need two? Well get to that later...)
My son was just as excited as I was when the WLtoys Q303 Spaceship arrived in the mail. He literally begged me to let him do the video review above.  It's entertaining at the least, if you can get past the Christmas blanket back drops...
This thing comes equipped with a HD camera with build in 5.8 GHZ video transmitter.

It comes with an HD LCD screen that mounts to the included 2.4GHZ  radio transmitter for controlling the drone.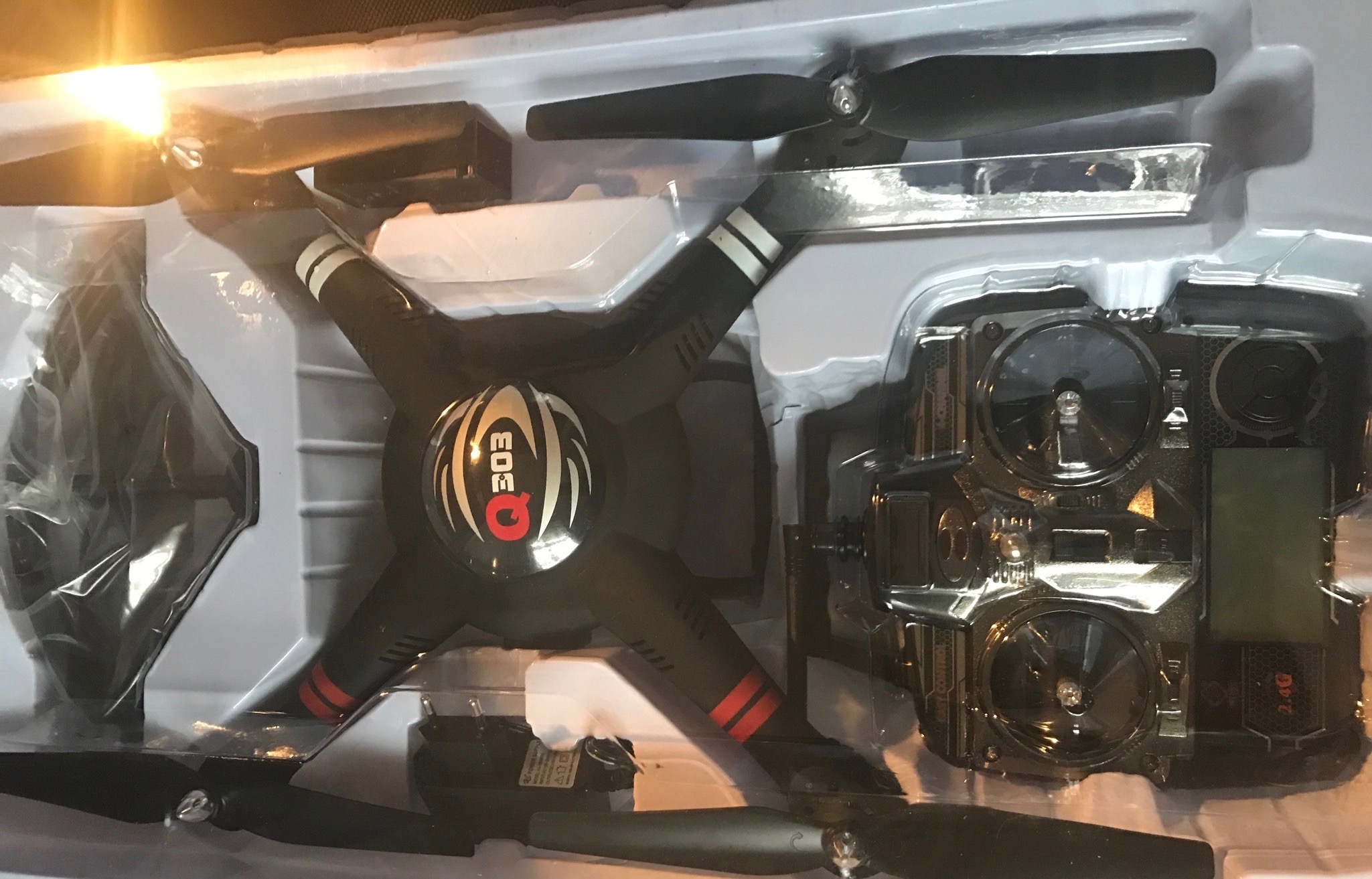 The WLtoys Q303 Drone comes with all of this for just a hair over $100!
How's It Fly?
I'm not going to get into all the specifics and specs. You can find that on the retailer's website. Let's just talk about what we liked and disliked about it.
I was very surprised at what a solid flyer this thing is!  It does have brushed motors so it's not a powerhouse by any means.  It's pretty fast but you do have to allow for some room for recover after doing flips or coming down quickly.
My 11 year old son with very little flying experience is able to hover the WLtoys Q303 with ease. Flying around without getting disoriented?  Let's just say I'm right behind him ready to take over when he flies!
Doing flips is pretty straight forward. Just push the "Trick" button on the transmitter then full input either forward, back, right or left and she flips nicely!  Just allow for some room as she does drop.
And, if you push the "Trick" button you better go ahead and do a flip immediately! First time I flew it I was still trying get comfortable with the transmitter.  Apparently I didn't move the right stick far enough after hitting the "Trick" button and nothing happened.  Then a few seconds later out of nowhere she flipped!
Seems there should be some sort of timer or something that cancels the flip if not done immediately. But theres not, she doesn't forget!
How's the FPV performance?
The included HD LCD screen with it's build in 5.8Ghz receiver has a very nice crystal clear pictures as long as there is a strong signal.
The video transmission range is a little disappointing. I never actually measured the range but in certain directions the video starts cutting out at fairly quickly, and other directions it seems to be pretty decent.  
It's possible there is some radio interference with WIFI etc. in my neighborhood. I'd say the maximum distance of good reception is probably around 400ft. But for the price of this thing? Kind of hard to complain!
Works with My Video Goggle
I was pleasantly surprised to discover that the 5.8 Ghz video transmitter that comes with the WLtoys Q303 drone is compatible with my video goggles!

I've had a ton of fun cruising in and around trees and over the house around my yard etc while flying first person with the video googles! 

I mentioned earlier that I liked the WLtoys so well I bought two of them. Well, I'm embarrassed to share with you WHY I needed to buy another one...
One day I came home over work and asked my son Cole to by my spotter as I wanted to see how how this thing would go while flying FPV.  As a typical 11 year old he had something else he had to "finish" before he could come help me...
If you watched the video at the top of the page you will see where I recommend never flying FPV without a spotter. Especially if you are going high.  Well... I got impatient waiting for my son and off I went!
Let's just say I had an AWESOME view and could see for MILES all the way up until the video cut out.  I thew off the goggles and my Q303 Drone was nowhere to be seen!  I looked for it for DAYS!   I couldn't be that far away as I only went straight up. But, as of now it's MIA...
I couldn't stand it so I bought another one!
The view I was seeing through the goggles when I lost video transmission was very similar to the video I took below WITHOUT the goggles on!  I think I was higher though!

Conclusion
The WLtoys Q303 drone is considered a "toy" grade RC Quadcopter. There is no GPS. The range is limited. The motors are brushed as opposed to brushless.
I'm not a huge fan of the proprietary battery because I can't use any of my other lipo battery packs. And I can't charge it quickly with my Lipo Charger. I have to use the includes charger which takes a couple of hours to charge.
For the price, you can't beat the WLtoys Q303 drone. It's not expensive so you don't have to freak out when you break it (or loose it).
It is a very stable flyer that you can get pretty crazy with once you get the hang it.
It is a fantastic introductory FPV quadcopter with an HD LCD screen with a crystal clear picture at fairly close range. It even has a self leveling gimbal on the camera that keeps the horizon straight when the drone is tilted forward or backwards.
I'd recommend the WLtoys Q303 drone to anyone on a budget who is looking to get a taste of the world of FPV!
When taking shipping into consideration, I've found the Gearbest has the best pricing and their prices change frequently. The first one I bought from them was around $120. The second one was only $90!  Both times were FREE shipping from China!
So check their pricing often for the best price!