E-Flite Super Cub 25e ARF

The E-Flite Super Cub 25e ARF is yet another fine addition to E-Flite's Platinum series of airplanes. The staggering attention to detail for an ARF this size is quite impressive.

The look and feel of this classic airplane is perfectly captured in this gentle flying scale beauty. It's covered with premium Hanger 9 Ultracoat with the traditional Super cub trim scheme.
---
It has a sharp looking cowling that's already been painted for you.

Not only does it look good, the magnetic fasteners allow instant access to the motor and electronics.

This allows you to  spend more time flying and less time with the screwdriver when at the flying field.
---
The functional split fold cockpit door give access to the very realistic cockpit interior details. This 25 size scale beauty even has a moon roof!
The detailed interior is optional for those of you who like to sculpt your own cockpit.

If you're lazy like me, you can just buy the cockpit kit and act like you detailed it your self.

Of course noone would believe that I was able to craft the fine details of this cockpit!

Just to be clear, the cockpit detail isn't including with the ARF.

---
It's constructed from top quality balsa and lightweight plywood, the kind of quality and craftsmanship we've come to expect from E-flite.
Its 2-peace plug-in wings make it extremely easy to transport in smaller vehicles. You can arrive at the field and have her in the air in a matter of minutes.
The aluminum painted wing studs and realistic details on the functional flap and aileron control surfaces are another taste of the fine detail you will find on this bird.
The functional shock absorbing main landing gear sports durable Super Cub wheels and tires. This front landing gear not only looks sweet, it does a superb job of cushioning those not so soft landings.
The E-Flite Super Cub 25e even has shock absorbing leaf springs in the tail wheel assembly. This set up leaves little excuse for a bumpy landing!
Assembly of E-Flite Super Cub 25e ARF

This E-flite Super cub 25e ARF will take an experienced modeler around 10 to 15 hours to assemble. Because of the functional flaps (yeah baby!) you're going to need at least a 5-channel transmitter and receiver.
The bear minimum you will need to get this bird in the air is 6 mini servos, a battery, an ESC, a brushless motor, a propeller, and a 2" spinner.
Basic Setup

3200mAh 4S Lipo
60 Amp Brushess ESC
25 size 870 Kv Outrunnerr
Prop Size: 13 x 6.5E
A5030 Mini Digital Servos
TX and 5+ channel RX



Super Cub Hop-ups!

If you're gonna have a plane as nice as this, you might as well deck it out right?
For starters, bump up the power plant to a 32 size 770 Kv brushless motor with a 14x7E propeller. A 2" stainless steel spinner is a very nice finishing touch that makes her look extremely sharp!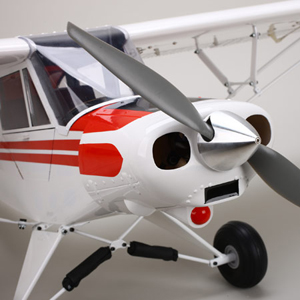 Detailing the cockpit can be fun if you have the time. Otherwise the optional cockpit detail kit is a must!
The optional navigation lights really brings this bird to life during those late afternoon flights as the sun is fading away. As a matter of fact, these lights make it very easy for bystanders to mistake this bird for a full scale cub!
Bottom line? If you're looking for a 25 size scale electric airplane with an enormous amount of detail, look no further!
Go ahead and get your E-flite Super Cub 25e on order now! If you know of another electric model of this size that comes anywhere close to this level of detail let me know because I'd like to see it!