Best Video Goggles for FPV?
Looking for the best set of video goggles for flying FPV?
Get familiar with the terminology and different options available so you can make a wise choice before spending your hard-earned money.
---
---

Viewing Angle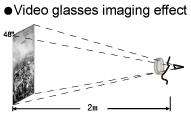 So what exactly does it look like through a pair of video goggles?
Picture yourself in a completely pitch dark room with a nice flat screen TV hanging on the wall in front of you.  You're alone with absolutely nothing in your peripheral view to distract you from the video you're watching.
The "viewing angle" is the term used to describe or define how large and how far away this virtual screen appears to be when looking through a set of goggles...

Viewing Size vs Image Quality
Most FPV goggles have a resolution of 640 X 480. This represents how many dots or pixels are used to represent the image on the screen.
It stands to reason that a smaller viewing angle will look much more crisp than a larger viewing angle with same amount of pixels.
Pete does an excellent job of illustrating size vs. clarity at the 13:50 mark of this video.
It's basically trade-off between clarity and immersion. What's more important to you?

Headtracking 
Headtrackers are neat little gadgets that make your on-board  camera mirror the movement of your head.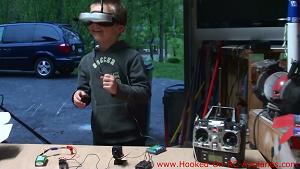 If you look down and to the right, the camera on the plane will look down and to the right.
No matter how you turn your head, the camera moves the same.  As you can see, my son gets a kick out of this!
It's really an awesome feeling to be "virtually" onboard your RC plane, but it definitely takes some getting used to.

At first, I kept flying towards the direction I was looking!
It's a good idea to learn to fly FPV with a fixed camera before using your head tracking feature. This is something I learned the hard way.

How about your eyes?

Interpupillary distance (IPD) is the distance between the pupils of your eyes.  For this average adult, this is about 63.5mm. Some goggles have adjustable IPD, some don't.
If you think your eyes are farther apart or closer than the average person, this is something to think about.
What if you wear prescription glasses?
If you wear glasses it's important to find a set of goggles that will fit comfortably.  Some video goggles work well with  glasses.
Others?  Not so much...
Some video glasses actually have optional diopter lens inserts that fit snuggly into the eye piece allowing you to see clearly without using your prescriptions glasses.
Diopter lenses are like installing reading glasses into your video goggles. 

Avoid Direct Sunlight!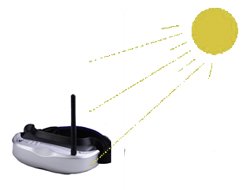 Here's a tidbit of info that's good to know once you decide on a pair of video goggles.
Direct exposure to sunlight into the lenses will damaged your goggles in a hurry.
It only takes a few seconds for direct sunlight exposure to damage the internal LCD displays. So be careful!
Popular FPV Video Goggles
Fat Sharks
Fatsharks and Foxtech goggles are specifically designed for FPV flight.
They're relatively rugged, they're made to seal on your face to keep the ambient light out, and some even have built in video receivers and headtrackers.
Fat Shark was the first to come out with video goggles specifically designed for RC. You can count on them to have the latest and greatest cutting edge FPV equipment.
See comparison of the different Fat Shark Video Goggles
Foxtech AIO Goggles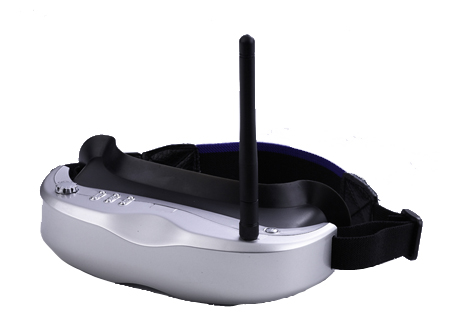 Foxtech is the new kid on the block, they are known for their Foxtech AIO googles. This is actually what I use to fly FPV and I absolutely love them.
By the way, you can read about my Rock Start with FPV here. Some serious back luck man, but in the end it was all worth it.  It's awesome circling around the sky like a bird!
Learn more about the Foxtech AIO Video googles here



Using Goggles Not Designed for FPV
You can certainly fly FPV with goggles designed for watching movies or playing video games.  They generally have a better resolution, but may require some modifications to use them for flying RC airplanes.
The Headplay Displays and Vuzix Wrap 920 are the most common non-FPV goggles used for FPV. Each have their pro's and cons. Follow the links under each for more explanation.


Ski Mask Mod
If you decide on a set of Headplay's or Vuzix 920's you're going to need a way to block the ambient light from getting in.
You can always throw a blanket or towel over you head like some people do…
If you want to look cool then encapsulate your new video goggles inside of a ski mask!
If you're anything like me, trying to do this on your own could result into something that looks like a total hack job (just ask my wife).   If you want something that looks professional, have the guy at fpv-plastics.com do it for you. 
What do you use for FPV flight?
Tell us about your set up. What type of goggles do you use? What do you like or dislike about them?

What type of aircraft do you use? What frequency and type of antennas do you use for video transmission? What kind of range do you get? Let's see some pictures of your setup!

And make sure to share a link to some footage taken from your plane. I absolutely love watching FPV videos!
See Other People's FPV Setups
Click below to see FPV setups from other visitors to this page...

My Rocky Start with FPV
I've been wanting to try FPV for a long time, all it took was a catalyst to set things in motion. Whenever you get an email from the local hobby store …
Check out these goggles...