Hobby Zone Super Cub

Countless RC pilots have taught themselves how to fly with the Hobby Zone Super Cub since it was released in 2006.
In fact, the Super Cub has been so successful that Hobby Zone continues to offer the same airplane over the years with different radio equipment as technology has advanced.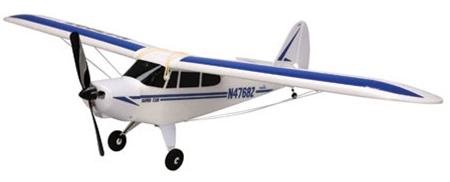 ---
| | | |
| --- | --- | --- |
| It is currently offered as a ready to fly version with a Spektrum DX4e transmitter along with a DSM2 Receiver/ESC Unit as seen to the right. | | |
A Bind n Fly version is available if you already have a DSM2 transmitter.

---

Why is the Super Cub so popular?
With nearly a 4 foot wingspan, the Super Cub is a very stable trainer airplane with realistic scale features and is offered as a complete package with everything you need to fly at a very affordable price. Really...What else could you ask for?
Stable Flying Characteristics

The ParkZone Super Cub has all the classic characteristics that make for a good RC trainer airplane. The one piece high wing is specifically designed to provide the high lift, low stall speed and stability that a beginner needs for learning to fly.
Tail draggers are known to be a little squirrely on take-offs which is why mosttrainer planes are equipped with tricycle landing gear.
Because of the relatively small size and light weight of this RC Super Cub, a steerable tail wheel controls the plane very nicely on take-off's and landings.
Since taking off isn't a problem, a tail dragger is actually better in my opinion because landing in thick grass often times damages steerable front wheels. Been there done that...
Durable Construction

This RC Super Cub is constructed of a very durable material called Z-Foam™. In addition to being durable, this material is easily repaired by CA glue. I've also found that Gorilla Glue works well with repairing Z-Foam™.
Completeness
HobbyZone goes out of their way to make is as easy as possible for you to get started flying RC. People who've never laid a finger on an RC airplane can easily assemble and fly this airplane.
All you have to do is attach the wing, tail, and landing gear with a handful of screws and a couple of rubber bands. Watch the included video while your battery charges and you'll be flying in no time!
Hobby Zone Super Cub Parts Readily Available

If you're teaching yourself to fly, the chances are about %99.9 that you will have a mishap or 2, or 3. If you happen to break something that glue can't fix, a full set of replacement parts are readily available.
Anti Crash Technology

The Super Cub RTF is equipped with ParkZone's patented Anti Crash Technology. No, this doesn't mean your new RC airplane is crash proof, but it certainly helps a beginner avoid a crash two.
Once you get the hang of flying you can turn the ACT off with a flip of a switch on the transmitter.
Scale Appearance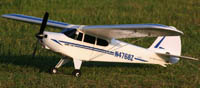 Let's face it, typical RC trainer planes are not the most attractive looking RC airplanes out there. The Hobby Zone Super Cub closely resembles a full scale Cub while maintaining all of the characteristics of a good RC trainer.
If you're heart is set on a scale airplane for learning to fly, this is definitely your bird!
Powerful 480 Motor

The powerful 480 motor provided the extra punch a beginner needs to pull the airplane out of precarious situations. This powerful motor allows for some impressive climb rates and fast low passes.
X-Port™ Technology Equipped

Hobby Zone's patented X-port technology allows you to transform your Hobby Zone Super Cub into a long-range bomber, combat fighter, or a night flying spectacle. My personal favorite one is the Sonic Combat Module™. It's literally like playing laser tag in the air!

Land/Take Off on Water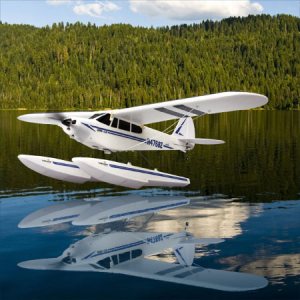 HobbyZone sells a set of floats specifically designed for the HobbyZone Super Cub RTF. Now you can impress your friends on the next fishing trip. Just make sure you learn how to fly it over land first!
Find it Cheap on eBay