ParkZone Extra 300
In the past if you wanted a decent quality plane that could fly tight and accurate maneuvers you had to build it. The ParkZone Extra 300 is an aerobatic machine ready to fly in the time it takes to charge the battery!


Although originally marketed towards beginners, the high quality, superb flight characteristics, and ease of assembly of ParkZone planes have gained the respect of seasoned pilots as well.
After mastering such planes as the ParkZone T-28, many new pilots are ready to advance to a more aerobatic and challenging airplane. They've asked for a more advanced airplane with the same quality, durability and ease of assembly that ParkZone planes are know for...
ParkZone Delivers...

Recognizing the demand for a more aerobatic plane, ParkZone teamed up with the well-renowned TOC champion Mike McConville to bring the magic of ParkZone to one of the best performing aerobatic planes in the world, the Extra 300.
The end result is a truly aerobatic machine that incorporates all of the characteristics that ParkZone lovers have grown to expect.
Not only is this the most powerful ParkZone plane to date, it performs knife-edges, snap rolls, and ailerons rolls with virtually zero pitch or roll coupling.

It's is a powerful aerobat designed to eliminate unwanted flight characteristics so you can focus on learning new maneuvers instead of tweaking the model with computerized mixes to make it fly better.


The Powerful 15-size brushless outrunner allows for enormous loops and very long uplines. But when you're ready to slow her down you'll find that she has the same smooth, stable slow speed performance you've come to expect from a ParkZone park flyer.

The ParkZone Extra 300 turned the model aviation world up-side-down when it came to what people expect from a foam RC airplane.

There's no doubt this airplane is an effective tool for intermediate pilots to advance their skills, but even the expert pilots have grown to love the performance and convenience of the ParkZone Extra 300...




Assembly and Transportation


This airplane is a breeze to assembly. Attach the wings, landing gear and horizontal tail. Attach the control surfaces to the pushrods. Charge the battery and she's ready to fly...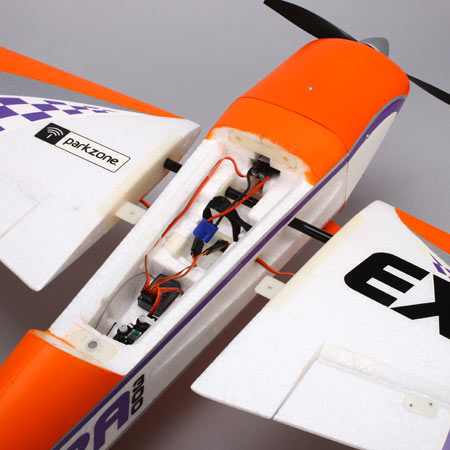 The relatively small size of this aerobatic machine allows it to easily fit in the back of your van or truck fully assembled.
Don't have a truck or van? What's great about the ParkZone Extra 300 is that it can easily be transported no matter how small your car may be.

Specifications
Wing Span:40.6 in (1030mm)
Overall Length:15-size brushless outrunner (950Kv)
Flying Weight:34.5 oz (980 g)
Motor Size:15-size brushless outrunner (950Kv)
CG (center of gravity):Approximately 3.0 in (76mm) from leading edge at wing root.
Prop Size:10.5 x 9
Servos:4 installed
Speed Control:30A Pro SB Brushless ESC
Battery with BNF version:11.1V 3S 25C 2200mAh Li-Po
Charger:DC powered variable rate balancing 2- to 3-cell Li-Po
Landing Gear:Fixed main with steerable tail wheel
 
Look on Ebay