Great Planes RC Trainers
Great Planes RC Manufacturing is a leader in the industry and well respected for their high quality kits and ARF's. Their trainers include the PT Electric, PT-20, PT-40, and PT-60.
Great Planes bought out Carl Goldberg Models in 2007 which expands their trainer selection to include the Carl Goldberg Eagle 2 and Falcon trainers.

Great Planes "Perfect Trainer"
Many of RC pilots have learned to fly with a Great Planes "PT" trainer. If you want one of these, you're going to have to build one from a kit as these Great Planes RC trainers are available in kit form only. 
PT Electric
PT-20 MKII
PT-40 MKII
PT-60 MKII
Kit
Kit
Kit
Kit
Kit
Airfoil
FB
FB
FB
FB
Wingspan
56"
52.75"
60"
71"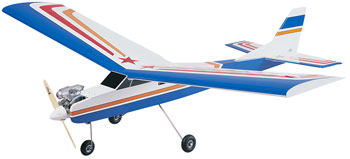 Great Planes boasts their "Perfect Trainer" kits. The PT's are available as 20, 40, and 60 size kits.
While these are excellent quality kits and great RC trainer planes, calling them "perfect" may be a bit much...
The flat-bottomed wing and generous dihedral makes this bird one of the most stable RC trainer planes out there. These same characteristics drastically limit the airplanes aerobatic capabilities. Keep this in mind when choosing your trainer. 

Carl Goldberg Trainers
Carl Goldberg Models Inc. has had a reputation of producing top quality RC airplane kits and ARF's since the late 1950's. Although currently owned by Great Planes RC, Carl Goldberg continues to produce the same high quality RC trainer planes.
Eagle 2
Falcon
Kit
Kit
Falcon III 40
ARF
ARF
Falcon 56 MKII
Airfoil
FB
SS
Wingspan
63"
56"

Goldberg Eagle 2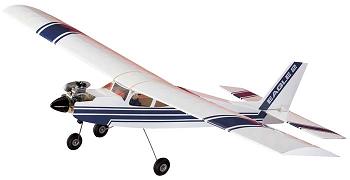 The Eagle 2 is a 40 size RC trainer plane with a wing span of 63". It's another flat-bottomed high-wing trainer with very stable flying characteristics.
The windows in the cockpit area really bring this bird to life. If you didn't know any better, you'd think this was a scale version of a full scale plane!
The Eagle 2 trainer is available in both Kit and ARF form.

Goldberg's Falcon Trainer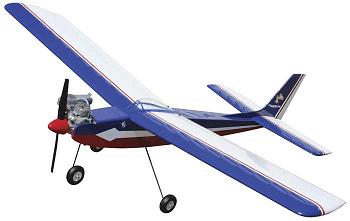 The Falcon is a 40 size RC trainer plane. It has a 56" wing span with a semi-symmetrical airfoil allowing for a little more aerobatic capability.
This plane has a generous amount of dihedral to help the beginner RC pilot to keep the wings level.
The Falcon stands out with its unique appearance with the wings setting flat on the fuselage with really no "cock pit" area. This is known as a "stick" type airplane.
The Falcon 56 MKII is the ARF version and the Falcon III 40 is the Kit version of this trainer RC airplane. Don't let the numbers confuse you. The 56 of the ARF refers to the wingspan, the 40 of the Kit means it is a 40 size plane. 
Check out these trainers as well...