There are several Hobbico trainer planes to choose from. The table below shows the availability of each as an ARF, EP ARF, RTF Electric, or RTF Glow. The EP ARF has an electric motor and ESC, but does not include a radio system.
If you're new to the hobby, you might want to take a few minutes to learn what makes a good RC trainer plane. 
| | NexStar | SuperStar 40 | AviStar 40 | HobbiStar 60 | ElectriStar |
| --- | --- | --- | --- | --- | --- |
| ARF | ARF | w/Monokote | ARF | MkIII | ---- |
| EP ARF | ---- | EP ARF | ---- | ---- | ---- |
| RTF Electric | EP RTF | EP Select | ---- | ---- | ElectriStar RTF |
| RTF Glow | Select | Select MkII | Select | Select | ---- |
| Airfoil | FB | FB | SS | SS | FB |
| Wingspan | 68.5" | 48.5 & 60" | 59" | 71" | 63" |

Hobbico's Nexstar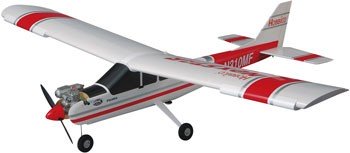 Hobbico's NexStar is known for its on board Automatic Flight Stabilization (AFS) system. The AFS system monitors the plane's orientation and sends feedback to adjust the roll and pitch to keep the plane flying level.
Other features unique to the NexStar are wing airfoil extensions and removable training flaps.
The airfoil extensions are special wing tips that help keep the wings level when the plane begins to stall due to slow air speeds.
The removable trainer flaps provide extra lift to allow the RC trainer plane to fly at much slower speeds without stalling. Once removed, this RC trainer plane is capable of flying much faster.
This Hobbico trainer  comes with RealFlight NexSTAR Edition's flight simulator. This edition of RealFlight contains only the NexStar with no other aircraft.
Some people really like these extra features while others actually complain about them getting in the way. If you're looking for the cream-of-the-crop trainer with all the extras, then the NexStar is your bird!
The NexStar is available as an ARF, RTF Glow, and RTF Electric. Each available in either a blue or red color scheme

Hobbico's SuperStar 40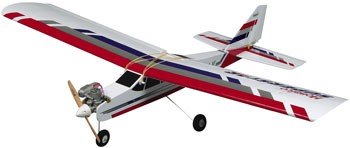 Hobbico's Superstar is your classic flat-bottomed airfoil high winged trainer. The flat-bottomed wing provides extra lift at low speeds which makes for a very stable and easy to fly airplane.
The basic airframe of the SuperStar is very similar to that of the NexStar. If you like the NexStar but don't want to spend money on all the extras that you're likely to outgrow quickly, you should consider the SuperStar.
The RTF Glow comes with an O.S. 40 LA Engine and 4 channel Futaba F4V radio system.
The O.S. 40 LA is a good engine, just keep in mind that the LA series engines have bushings and not bearings. In other words, this engine will not be quite as powerful as other 40 size engines that have bearings.

Hobbico's AviStar 40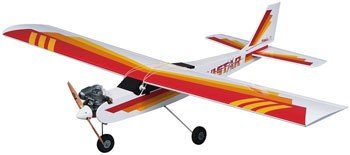 This Hobbico Trainer's semi-symmetrical airfoil makes it more aerobatic than the typical flat-bottomed airfoil of most other trainers.
The AviStar is available as an ARF as well as a RTF Glow. The RTF comes with the same O.S. 40 LA Engine and 4 channel Futaba F4V radio system as the above SuperStar.

Hobbico's HobbiStar 60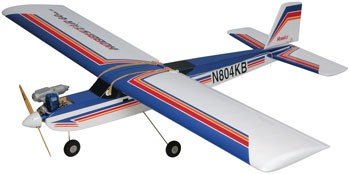 The HobbiStar is the largest Hobbico trainer with a wing span of nearly 6 feet wide!
Larger airplanes tend to fly more smoothly than smaller planes. And they're also much easier to see.
The HobbiStar also has a semi-symmetrical airfoil allowing the airplane more aerobatic capabilities than a flat-bottomed airfoil.
The HobbiStar is also available as an ARF as well as a RTF glow powered trainer.
The RTF comes with an O.S. 60 LA Engine and a six channel Futaba 6YG radio system.
The same is true with this O.S. 60 LA as is with the O.S. 40 LA engine that comes with the AviStar RTF. It's a good engine, but it has bushings and not bearings which causes it to have less power than 60 size engines with bearings.

Hobbico's ElectriStar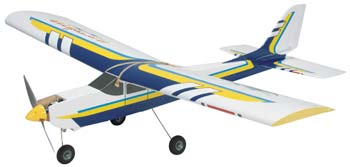 As the name indicates, the ElectriStar is purely an electric powered RC trainer.
Because the airframe of this Hobbico trainer doesn't have to support the weight of a glow engine, the designers were able to decrease the airframe weight considerably.
It is available only as an EP(electric powered) RTF trainer. It comes with a powerful ElectriStar C-42 Brushless Motor and Great Planes SS-45D Brushless ESC already installed.
This EP RTF comes with the Futaba 4EXA 4-channel FM computer radio system.
This is one of the few 40 size electric RC trainers that flies with as much power and zing as its same size glow powered counterpart, but without a noisy messy engine to contend with!
If you're looking for an electric trainer, you should consider the ElectriStar.
Different brands of training planes below...
Top of Hobbico Trainer Planes