Spektrum RC Radio Systems

Are you looking to buy a Spektrum RC radio system but can decide what to buy? Are you wondering exactly which radios and receiver are for large radio controlled airplanes and which ones are for park flyers only?
---
Click for Amazing Prices on Spektrum Transmitters!
Do you have an existing 72MHz radio that you're thinking of upgrading to 2.4GHZ? Learning the facts will help you make the right decision when choosing a radio system for your radio controlled airplane!
History of Spektrum Transmitters




Spektrum's DX6 was the first 2.4GHz radio system designed specifically for RC airplanes. It uses Digital Spectrum Modulation (DSM) technology. This fresh new DSM technology was a significant breakthrough for our hobby but it had some problems.
The 2.4GHz signal is great for avoiding interference, but it has an extremely short wavelength. This short wavelength allows for the convenience of shorter antennas. Unfortunately short wavelength signals are easily blocked by objects that normally wouldn't be a problem with the conventional 72MHz signal. Such objects include metal landing gear, engines, carbon fiber etc. For this reason, the DX6 was only reliable for small light weight airplanes that didn't have such parts that could block the signal.
So, Spektrum went back to the drawing board and developed a new coding scheme and incorporated two receivers with two RF links to insure that both the signals are never blocked at the same time. This new coding scheme is called DSM-2. The DX7 was the first full-range Spektrum RC radio system to utilize DSM2 technology.
Shortly after that, Spektrum came out with the DX6i which is also a full-range radio that utilizes DSM2 technology. It is very important that you understand the difference between the Spektrum DX6 and DX6i. As you might have guessed, Spektrum's DX6 transmitters are pretty much obsolete and you will rarely see them sold.
The main thing to understand is that the Spektrum DX6 transmitter along with all parkflyers receivers (AR6000, AR6100, AR6100E, and AR6300) can ONLY be used with small parkflyers and helis. DSM2 radios are backwards compatible meaning you can use a parkflyer DSM receiver with the DSM2 transmitters, but only with small parkflyers.
Spektrum RC Radio Systems
Besides the virtually obsolete DX6, there are basically three Spektrum RC radio systems to choose from. The most basic and affordable is the DX5e. The DX6i is a very nice computerized radio with more options than the average RC pilot would ever use. Then there is the DX7, the current mac-daddy of Spektrum RC radios.
It's fairly easy to determine if the DX5e is up your alley. However, choosing between a Spektrum Dx6i vs the DX7 can be a tough decision. I've pointed out the major differences to help you make this choice.
DX5e 5-channel Full-Range DSM2 Spektrum RC Radio System
Are you a beginner looking for the most affordable full-range Spektrum RC radio? Maybe you're a seasoned pilot with a perfectly fine 72MHz radio system and have your heart set on one of these awesome little bind-n-fly planes, but you don't want to spend a fortune a new radio system?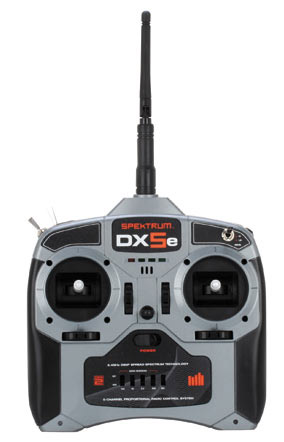 For dirt cheap (if you can even find one) you can have a brand new full-range DXM2 5-channel transmitter with all the basic functions such as servo reversing, delta wing mix, HI-Low rates, and even a trainer system compatible with Spektrum and JR radios. Ya, you can even hook this bad boy to your instructor's Spektrum transmitter's trainer port instead of using a buddy box!
If you just need the transmitter for that bind-n-fly you've been eyeing, the DX5e transmitter only is a no brainer. But what if you need a complete radio system for an ARF or kit?
Again, IF you can still find one, you can get the Dx5e transmitter with the AR500 5-channel full-range sport receiver that can be used with any size airplane. Can't beat that!
You're probably wondering how this radio can be sold at this price. There must be a catch right? Well, the DX5e is not a computer radio full of programmable mixes or model memory. It's a basic get-the-job-done radio at a very affordable price. Another factor keeping the price down is the lack of a rechargeable battery pack and charger. The transmitter uses 4 AA standard batteries.
This radio is perfect for a beginner on a tight budget, or someone needing a transmitter for that bind-n-fly plane they can't live without. However, if you're a hardcore RC'er looking for a Spektrum RC radio system with computer mixes, model memory, digital trims and all that good stuff we've been spoiled with over the past few years, then you probably want to check out the DX6i or DX7.
DX6i 6-channel Full-Range DSM2 Spektrum RC Radio System
If you've been bitten by the ol' RC bug and know you're in it for the long haul, consider the Spektrum DX6i This is a very nice DSM2 full-range radio system at a very modest price. It has both an airplane and helicopter modes with way too many features to list them all.
This Spektrum RC computerized radio has a 10 model memory. If you're not familiar, this means that you can have the servo directions, end point adjustments, dual rates, expos, digital trims, etc. for up to 10 different radio controlled airplanes stores in the transmitter's internal memory.
It's pretty much a standard feature for all computer radios to have programmable model memory. But you have to be careful that you have the correct model selected with the airplane you're flying. I've personally witnessed fellow pilots destroy their pride and joy because they had the wrong model selected and the servos were reversed. Man, seeing a grown man cry is definitely not a pretty sight...
You'll never have to worry about this happening to your airplane because Spektrum's ModelMatch binds each saved model to the specific receiver in that particular airplane. If the wrong model is selected in your transmitter, the receiver in your airplane simply won't listen to it!
The digital trims with a computer radio are great to have even if you only have one airplane. I have a couple non-computer radios and it drives me nuts when I take off and the airplane is completely out of trim because I bumped the trim levers while transporting the radio. Doooh! You can bump the trims of a computer radio all day long and if the radio is turned off it doesn't change a thing.
As with most computer radios, the Spektrum DX6i comes with programmable dual and exponential rates for elevator, ailerons, and rudder. The programmable dual rates gives you the freedom to set the sensitivity for both low and high exactly the way you want them as opposed to only having two factory presets of non computer radios such as the DX5e. The exponential rates allow you to maintain full throws for emergency situations while making the sticks less sensitive near the neutral position. Expos are a must for 3D flying!
Three standard wing mixes come programmed with the radio along with two additional mixes that you can program anyway you'd like. Do you have a plane that comes in too hot but you don't feel like going through the trouble of adding flaps? The dual aileron mix allows you to use your ailerons as flaps! The other pre-programmed mix makes it easy to set the radio up for your v-tailed airplanes.
Time flies when you got a bird in the air. The integrated timer on the DX6 has an audible alarm that lets you know when it's time to land. This will keep you from running out of fuel or from having your ESC start cutting out on low voltage. A timer is almost essential unless you carry a stop watch.
Do you have redundant servos on control surfaces such as elevator or ailerons? With a conventional radio the pulses from the receiver gets to the second servo a split second after the first servo. Spektrum's patent pending ServoSyncâ"¢ allows these servos to receive their pulses simultaneously eliminating any binding or lag between the two servos. This subtle enhancement makes a huge difference to the response of the aircraft allowing you to feel more connected with your airplane.
One thing to consider when making your decision is that the DX6i does come with rechargeable batteries, but it's not a standard rechargeable battery pack like most radios come with. It comes with 4 rechargeable AA NiCad batteries along with a wall charger.
Some folks are really put off by this for some reason, but to each their own. I personally see it as a benefit to have the option of using off the shelf AA's when in a pinch. I like to point this out because if this is an issue for you, you don't need any surprises when opening the box!
DX7 7-channel Full-Range DSM2 Spektrum RC Radio System
Are you a hardcore RC junkie that always has to have the best available? While the DX6i is an awesome radio that easily meets the needs of most pilots, Spektrum's DX7 is a step above!
Besides the obvious extra channel and 20-model memory, the software of the Spektrum RC DX7 is more sophisticated and has 6 programmable mixes giving you more options when setting up your model.
This can eliminate y-harnesses and allow for independently driven servos on applications such as aileron and elevator. If you like to get creative and love playing with mixes, then the DX7 is right up your alley.
While the extra channel and upgraded software of the DX7 can make life easier for some airplane setups, choosing the DX7 over the DX6i is much more advantageous to the heli guys. I've heard a many of heli pilots wishing they'd sprung for the DX7. If you're a helicopter pilot, or have interest in learning, you may want to choose the DX7 over the DX6 if you're on the fence.
The DX7 also comes with a conventional rechargeable battery pack and charger for those of you who don't like the AA's of the DX6i.
There is an airplane version and helicopter version of the DX7. It's the exact same radio with the switches in slightly different positions. The throttle comes unratcheted with the heli version, but includes the ratchet should you want to install it.
High Torque Full Range System


This package includes the DX7 transmitter w/AR7000 receiver along with four JR DS821 Digital High Torque Servos. Great for glow powered aircraft.


MicroLite Radio Short Range System


This package includes the DX7 transmitter w/AR6100 receiver along with three JR S285 sub-micro digital servos. Ideal for small parkflyers and heli's

Receivers
AR6000 DSM 6-Channel Park Flyer Spektrum RC Receiver

Spektrum's AR6000 uses DSM(not DSM2) technology and is designed for small parkflyers only. This receiver can be used with any full-range Spektrum RC transmitter such as the DX5e, Dx6i, or DX7. However, it can only be used for small parkflyers regardless of the transmitter being used.
AR500 DSM2 5-Channel Full-Range Spektrum RC Receiver
The AR500 is Spektrum's only DSM2 Full-Range stand-alone receiver(doesn't have a satellite receiver). This receiver uses two antennas much like Futaba's Dual Antenna Diversity technology. It is primarily used with the DX5e transmitter, but can be used with any full-range DSM2 transmitter.
AR6100 DSM2 MicroLite 6-Channel Park Flyer Spektrum RC Receiver
The AR6100 is a tiny lightweight (3.5grams) 6-channel receiver designed for small electric parkflyers, 3-D foamies and small helis. The receiver uses DSM2 technology, but does not have a satellite receiver. This is a short-range radio designed for small planes and helis. It should not be used with larger models.
AR6200 DSM2 6-Channel Full-Range Spektrum RC Receiver
The AR6200 is the DSM2 receiver with a small satellite receiver. It comes with the DX6i radio system. It can be used with any DSM2 transmitter.
AR7000 DSM2 7-Channel Full-Range Spektrum RC Receiver
The AR700 is the DSM2 receiver with a satellite receiver. It comes with the Spektrum RC DX7 radio system. This receiver has the option of adding an optional flight log recorder to monitor your radio system during flight.
AR9000 DSM2 7-Channel Full-Range Spektrum RC Receiver
The AR9000 has all the same features as the AR7000 with the edition of 2 channels. Even though Spektrum hasn't released their own 9-channel transmitter, these 9-channel receivers are sold with Spektrum RC transmitter modules that allow JR and Futaba 72MHz radio systems to utilize Spektrum RC DSM2 technology. More on that below.
Modules
As you are well aware, radio systems for radio controlled airplanes aren't exactly cheap! Many pilots are reluctant to switch to a 2.4GHz system right after they just dropped a boat load of money on nice 72MHz radio. Spektrum's marketing team understood this, so they decided to come out with modules that allow some high-end Futaba and JR 72MHz radio systems to utilize Spektrum RC technology.
There are a couple disadvantages of a converted 72MHz. For one, Spektrum's ModelMatchâ"¢ and ServoSyncâ"¢ will not work with converted systems.
Secondly; the latency time of a converted system is much less than that of a 72MHz system, but a converted system is not quite as quick as a true 2.4GHz Spektrum RC radio system. The average pilot would probably never notice, but it is something to factor into your decision making process.

Related Pages
Top of Spektrum RC Radios