RC Seaplane Classics
An RC seaplane's sole purpose in life is to float in and fly over water. You see, there are airplanes with floats, and then there are airplanes that float! Here is a summary of the most popular radio controlled seaplanes available along with brief summaries of their full-scale counterparts.

The "infamous" PBY Catalina
The PBY Catalina, developed in the mid 1930's, was one of the most widely used multi-purpose aircraft of WWII. Serving in both the U.S. Army and Air Force, these flying boats were armed with depth charges, bombs, torpedoes, and .50 Browning machine guns for patrolling the skies over the Pacific Ocean.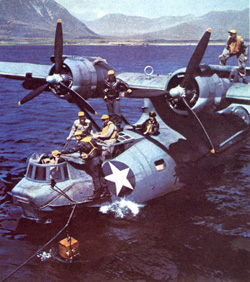 The "PB" stands for Patrol Bomber, the "Y" denotes that it was produced by Consolidated Aircraft.
Although originally designed to locate and destroy enemy ships, this flying boat was also used for carrying cargo and served as an escort for military convoys.
Because the PBY Catalina could float, it had the advantage of being able to land anywhere over the ocean allowing it to rescue thousands of downed pilots throughout the war.
Long retired from military service, you can still see PBY Catalinas being used as aerial tankers for fighting wildfires.
---
Great Planes EP Catalina Seaplane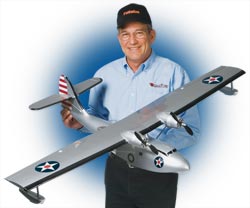 Great Planes PBY Catalina Seaplane is an ARF designed to be powered by an electric motor. As you can see in the picture to the right, it's a fairly decent size RC airplane with a 53.5" wingspan.
This RC seaplane is designed to be powered by two Great Planes outrunner brushless motors, with two with .
Of course you can use any brand of electronics you'd like with this RC seaplane, the above are the recommended sizes.
This ARF includes all the hardware, two props, prop adapters, two machined aluminum prop hubs and a set of detailed instructions. It even includes two spare bubble observation canopies.
Made from fiberglass and wood, it is finished with a trim scheme that looks exactly like the full-scale Catalina
| | |
| --- | --- |
| | It even comes with this handy little cradle. Since the Catalina doesn't have wheels, this cradle comes in really handy when working on your plane at the lake. |
---
Dynam EPO-foam RTF Catalina
Dynam makes a very nice EPO foam version of the Catalina that comes with a 2.4Ghz transmitter, servos, batteries, esc.  It's ready to fly right out of the box.
From the video to the right you can see how well she performs both in the water and air.

It has a decent amount of scale details for being a foam plane. 

The best part about foam planes is that they're easy to repair!
If you're looking for a good quality RC Seaplane that you can have in the air quickly, performs great, and is easy to repair you may want to have a look at the .
The Seawind
The Seawind 300C is known as "The World's Fastest Seaplane". Seawinds are luxurious civilian seaplanes built from kits and seat 4 to 5 passengers.
Its composite construction allows for a very sleek design with a distinctive tail mounted engine.
The spacious cabin has a wide panoramic view completely isolated from the engine's noise and vibration. Talk about flying in style!

Great Planes makes a very nice electric powered Seawind ARF. They also used to make a larger Seawind ARF designed to be powered by glow engines, but for some reason have discontinued them. R2hobbies also makes a fairly popular version of the Seawind.
---
Great Planes EP Seawind

Great Planes Electrifly EP Seawind, with a modest wingspan of 39.5", is available either as an ARF or RX-R. The RX-R stands for receiver ready.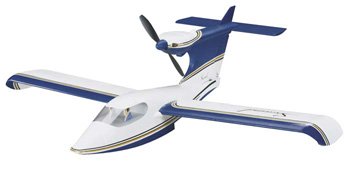 This RC seaplane comes with a RimFire™ 400 outrunner brushless motor, 24 amp ESC, and micro servos. You will have to supply a transmitter, receiver and 3S LiPo battery pack
Of course you must provide all the electronics for the ARF version.
It takes longer to charge the battery than it does to get this amphibian flight ready. The water portion of the rudder is removable for hand launches and for landing in the grass. This Great Planes EP Seawind also comes with a nice little stand to hold the model for storage of for use in the field.
If you're a fan of small but powerful electric powered planes and looking for an amphibian aircraft, you will be very happy with the Great Planes EP Seawind.
---
R2Hobbies Model rcpl71019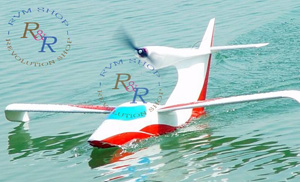 Another popular electric powered version of the Seawind is made by a company called R2Hobbies. With a wingspan of 41.8", it is very close to the same size as Great Planes EP Seawind.
You will find a lot of these on eBay. Many of which do not make reference to R2Hobbies, but most do make reference to the rcpl71019 part number. This Seawind also comes with a stand.
The Taylor Coot
The Coot is a two seat home built seaplane designed by Moulton Taylor back in 1969. Coot is the name of a bird that spends most of its time in the water. Taylor was an aeronautical engineer well known for the development of his flying car, the Taylor Aerocar.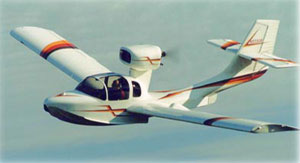 Taylor's Coot is unique in the fact that it has a low wing design. The wing roots were designed in a way to keep the airplane stable in the water without the need for wing tip floats.
The engine was mounted above the rear of the cabin with a pusher type propeller. There have been around 70 Coots built from plans. www.Coot-Builders.com is a great site if you're interested in building a full-scale Coot...
ArtTech Coota Amphibian RC Sea Plane is a ready to fly version of the Taylor Coot with a 26.8" wingspan.
It comes completely ready to fly including a 4 channel 2.4Ghz E-Fly radio system, 25A ESC, brushless motor, 1800mah Li-Poly Battery, wall charger, and even a flight simulator kit.
Icon A5
The full-scale Icon A-5 Aircraft is SWEET! This thing is seriously an engineering marvel. Not only will it out perform just about any hydroplane on the water, it flies like a dream!
It literally folds up like a Transformer and can be pulled on a trailer just like a bass boat!

The ParkZone Icon A5 is an RC version that's actually designedfrom the same blueprints of the full scale airplane. Learn more about the ParkZone Icon 5.
Other Water Related Articles

RC Seaplanes aren't the only way to fly from the water.  You can fly almost any plane from the water with a set of floats.  The links below will show you how to add a set of floats to your airplane.

---
---