ParkZone Icon A5

ParkZone has gone all out with its first ever amphibious RC airplane, the Parkzone Icon A5. If you like water and you're a fan of ParkZone's high quality electric models, then you're going to absolutely love this airplane.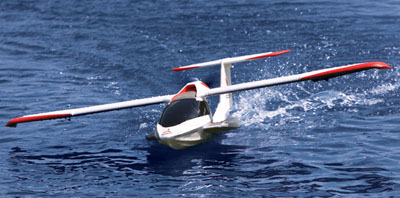 This an amphibious radio controlled version of the Icon 5 Lightweight Sport flyer. In fact, it's actually designed around the CAD drawings of the full scale airplane.
Even the fine details of the canopy and internal cockpit is replicated in this model. The incredibly realistic exterior along with the close similarities in performance on both land and water have earned this amphibious model an official endorsement.
Yes, it's actually licensed by Icon Aircraft!
Which is which?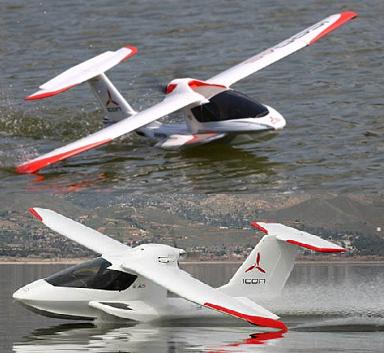 Which one of these is the Parkzone version and which one is the full scale version?
Icon Aircraft utilized some of the world's best aerospace engineers to develop an airplane that performs just as well on the water as it does in the sky. The boat-like shape and design of the fuselage not only allows for easy take off's and landings from water, it literally transforms the airplane into a high performance hydro plane!
You can have loads of fun buzzing around on the water with this bird without even lifting off. But what if it's a perfect day for a flight and you're no where near water? No problem!
The ParkZone Icon 5A comes with an optional nose-steerable tricycle landing gear. You will have the optional landing gear installed and be ready for taking off from dry land in less than five minutes.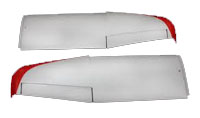 What's really neat about this plane is that it's easily transportable. This ParkZone Icon A5 has a two piece removable wing and bolted on stab which allows it to fit in just about any size vehicle.
It also tucks away nicely out of the way in the corner of your bass boat where in comes in very handy when the fish aren't biting!
As if it's not cool enough already, the optional E-flite light set brings the front headlights to life. Talk about some really cool reflections off the water against the dusk skyline. A definite attention getter!
The ParkZone Icon A5 is available in two different completion levels. It's available in a Bind and Fly version for your DSM guys. That's right, all you have to do is Bind your receiver to the plane, charge the battery and fly!
It's also available as a PNP version where you can use any receiver and transmitter you'd like. Great for the Futaba guys!
Are you ready for some fun on the water and sky?
Get your Parkzone A5 on order today
Other Amphibious RC Planes...

If you like the idea of flying from water, you'll enjoy the links below.