Mini RC Airplanes

Today's mini RC airplanes may be small... but they fly big!
The technology is finally available for recreating miniature versions of the most popular RC airplanes on the market!
It's kind of cool to whip out a tiny airplane to show off to family and friends at gatherings. But let's face it, it doesn't take long for people to loose interest when all you do is fly around in a circle with the occasional loop...
Until recently, that's about all mini RC airplanes were really capable of...
Finally the technology exists for creating fully functional tiny versions of our favorite RC airplanes that can pull off just about any aerobatic maneuver in the book with authority.

Give your friends something to really watch with one of these micro RC airplanes!
Hobby Zone Mini Super Cub

The HobbyZone Super Cub is one of the best RC airplanes on the market for self-taught RC pilots. So popular in fact that HobbyZone released a smaller even more affordable version. Just like the original version, the Mini Super Cub has Anti-Crash Technology (ACT) that can prevent devastating crashes when learning to fly RC.
The RTF Mini Super Cub comes with absolutely everything you need for learning to fly RC. This is the perfect airplane for those who want to enter the hobby without spending a ton of money,
>>  Mini Super Cub Ready to Fly out of the box only $75!
E-Flite Mini Ultra Stick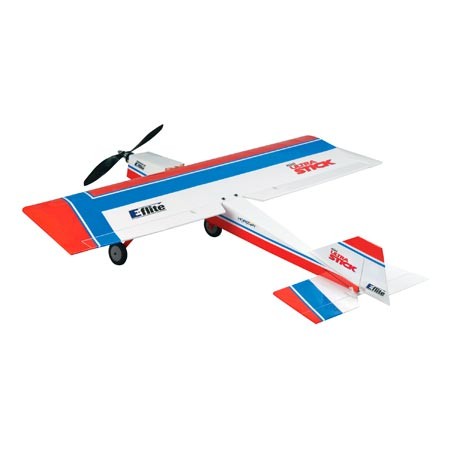 A spin-off of the 1960's "Ugly Stick", the Hanger 9 Ultra Stick is a high wing tail dragger that serves as a perfect "second plane". Beginner pilots who have mastered a classic high wing trainer have no problems controlling the Ultra Stick on low rates.
Don't let the fact that it has a high wing fool you. Flip the switch to high rates and you have a very agile aerobatic airplane, which makes it popular among seasoned pilots as well as beginners.
In fact, the Ultra Stick is so popular that E-Flite has came out with two different electric powered versions which are the E-Flite Ultra Stick 25e ARF and the smaller E-Flite Mini Ultra Stick ARF both of which can be set up with the optional "Quad Flaps" that allow you to do some pretty amazing maneuvers!
Quad Flaps is basically where each aileron is split in two pieces and the inside portions are used as flaps.
>>  Buy the Mini Ultra Stick Here
E-Flite Mini Pulse XT
Hangar 9's Pulse XT is a very popular sports plane that pilots simply fall in love with. You will be hard pressed to find a negative review of this one. While stable enough to serve as a first low wing bird, this airplane performs every maneuver in the book with ease and authority. As many would say, "she flies like she's on rails."
The original Pulse XT is available as an ARF and can be powered by either by glow or electric. The E-Flite mini Pulse XT is a smaller version ( 60.7" vs 42.5" wingspan) of this classic that's available as a Plug and Play (PNP). It comes with a 450 size brushless motor and 22 AMP ESC already installed. You just have to provide the battery and radio system.
>>  See for yourself how well she flies!
ParkZone Ultra-Micro T-28 Trojan
The infamous ParkZone T-28 was the first of an entire fleet of powerful yet affordable warbirds that changed the way we think of foam constructed electric airplanes. Because of it's remarkably stability many folks have learned to fly RC with the original ParkZone T-28, with the help of an experienced pilot of course.
The Ultra Micro T-28 is a tiny version that not only looks identical, but also flies nearly identical to the original T-28. I actually have both the original and ultra micro version. I was pretty amazed at how well this little guy performed the first time out. And the best part? I can fly this mini RC airplane in my tiny backyard!
>>  Order your Ultra Micro T-28

E-Flite UMX Beast BNF

World renowned RC pilot Quique Somenzini designed a 100 CC RC version (pictured above) of the Full Scale Beast piloted by Bryan Jensen. Quique's 100 CC version of the Beast is nothing short of spectacular when it comes to aerobatic performance. Unfortunately not everyone can afford a plane this big!
Thankfully E-Flite has come out with a tiny version of the Beast that the average Joe can get their hands own. So I guess you can call this a mini RC airplane of a mini airplane?
It retailed for $170 when it first hit the market. Although I REALLY wanted one, I thought that was kind of steep so I held off. I just recently picked one up for $99! Although I saved some money by waiting, I kicked myself for not picking one up sooner. This little mini RC airplane flies just as well if better than my larger planes!
I don't recommend this for a beginner, but if you have some experience under your belt you wont regret buying the ultra micro Beast!
ParkZone UM F-27Q Stryker 180 BNF
ParkZone Strykers have always been a big hit with the guys who crave speed. As a matter of fact, the Stryker has an almost cult like following of fanatics that modify and tweak to push the limit of extreme speeds well over 100 mph!
The new F-27Q Stryker adds an entire new dimension to the classic speed demon with added dual rudder control. Not only is it extremely fast, it can now do some insane maneuvering!
What's equally impressive is E-Flite's ability to create a tiny version of the new F-27Q Stryker with the same aerobatic capabilities. As you can see in the video above, there's not much this mini RC airplane can't do.