Looking for free model airplane plans?
For a little of nothing, you can find some quite detailed Warbird RC airplane plans here.
You'll find plenty selection for building your favorite WWII fighter. However, if you're strictly looking for free RC airplane plans, you will find plenty on the sites listed below. 

Hilbren RC Plans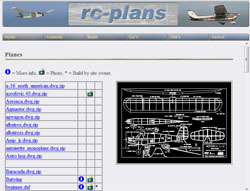 Hilbren RC Plans has free RC airplane plans for a variety of airplanes including vintage, WW2 era, flying wings and more. Most of the free model airplane plans on this page are in DWG format.
This site gives you a nice preview of the plans when you mouse-over of the file name without having to download them to see what they are.
After you click this link, click the airplane tab at the top to see the free  plans.
Svensons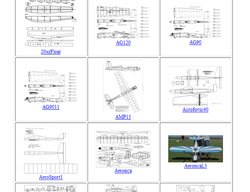 Svensons Free Model Airplane Plans has plenty of airplanes to choose from! Many of these free RC airplane plans are accompanied by a photo of the finished product.
Most of these plans are image files that can be opened with most computers without having to download special software.
They do have a few CAD files in DXF of DWG format.
RC Cook Book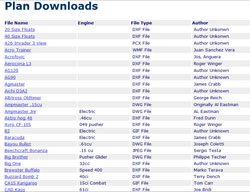 The RC Cook Book has a very large collection of free RC airplane plans. Most are DWG CAD files although there are several available in Gif image files.
There are no preview thumbnails available like most of the other pages, but there are some real gems on this site if you have to time to sort through them.

Free Flight and Indoor RC Airplane Plans
Many of the free model airplane plans listed in the sites below were originally designed for free flight or rubber power. Although some of the plans below are actually designed for RC airplanes.
Today's electronic components, such as Spektrum AR6400 Receiver/Servos, are becoming smaller and smaller all the time. Will a little creativity you may be able to turn one of these little guys into a fully functional 4 channel RC airplane!
F4B Scale Magic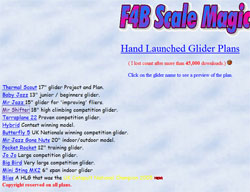 Paul Bradley's Model Airplane Plans 
If you're looking to build yourself a hand launched glider from plans, you may want to check this site out.
F4B Scale Magic has free model airplane plans for several hand launched gliders.
These plans are in PDF format and you can preview each plan before downloading it.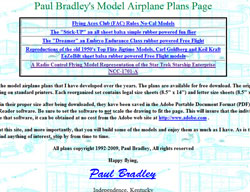 Paul Bradley's Model Airplane Plans Page is definitely worth checking out. Mr. Bradley has taken the time to produce some very nice free model airplane plans in PDF format.
Most of these are smaller free-flight airplanes, but there are some free RC airplane plans as well. Check out these plans for an actual radio controlled version of the Star Trek Starship Enterprise!
These plans are in full color PDF format which allows you to use a standard printer to print the plans onto 1/32" thick balsa sheets. Paul provides detailed assembly instructions along with pictures of the finished bird with each plan.
Find Model Airplane Plans on eBay
Didn't find what you want at the above sites? Don't fret. You can find plans for nearly any type of airplane on eBay, and usually for a very reasonable price.


More on Building RC Planes...