RC Flying Boat - Land, water, and Air!
The RC flying boat is the all purpose RC vehicle!
You're buzzing around the water with your "RC boat" on a weekend outing at the lake. Friends and others casually observe as they enjoy a relaxing day on the water. Ya, they think your toy is kind of cool, but they've all seen RC boats before...
Suddenly you pull back on the transmitter stick and the "boat" lifts into the air. You and your RC flying boat are now the center of attention as folks around you stop what they're doing to watch in disbelief.
Not only is this thing flying, it's doing stunts in the air like something off a Sci-Fi movie or something!
If you like to get a rise out of people, a flying boat is right up your alley! Hydrofoam RC flying boats really are quite amazing, ranking right up there with the flying lawnmower in my opinion!
A guy by the name of Michael Connally is the mastermind behind these RC Flying boats. He designed the original version and I believe these are his design in the video to the right. Pretty cool huh?
RC 4 CH 3-in-1 Hydrofoam F4 Airship
This 4 channel F4 Airship looks very much like a Hydroplane racing boat like Miss Budweiser. Looks can be deceiving though... Not only can this RC boat fly, it can also run on grass and hard surfaces such as asphalt or concrete!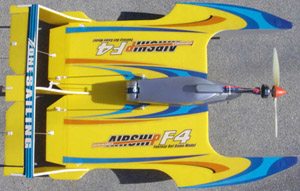 This is basically an RC airplane, RC car, and RC boat all at once. The way it climbs vertically, you could argue that it's an RC helicopter as well!
The Hydrofoam RC flying boat is constructed from sturdy lightweight foam material that is fairly easily repaired. This Hydroflyer comes completely ready to fly with a 47-channel 27Mhz transmitter/receiver, 11.1v 1300mAh lithium battery with wall charger.
There is really no assembly involved. Just charge the battery and you're ready to fly, or float, or drive... whatever you feel like doing!
If you're already a hardcore RC addict with a hanger full of RC airplanes, then this flying boat is definitely one to consider. Although it comes with a 24Mhz fully proportional 4-Channel radio programmed with a v-type mix, you can easily use your existing radio with your own receiver in you feel more comfortable flying with a radio you're used to.
The Hydrofoam F4 Airship is geared towards those with previous flying experience. It has a powerful brushless motor and its control surfaces are fully proportional allowing it to perform just like any other RC airplane.
If you are not proficient at flying a 4-channel RC airplane then you will want to learn how to fly RC airplanes first. Or maybe try one of the smaller toy grade flying boats listed below.
Toy Grade Flying RC Boats
The following "toy grade" flying boats are geared towards people who aren't necessarily RC pilots. They're much more affordable and require less skills to fly but don't perform quite as well as "hobby grade" flying boats like the one above. Just because they're not "hobby grade" doesn't mean they can't be a lot of fun for adults and kids!
Megatech Hydro Flyer 2
The Megatech Hydro-Fly 2 3-Channel LSA RC Flying Boat  is the second version of Megetech's land, surface, air vehicle (LSAV).
This is a 3-channel RC flying boat. The transmitter has two moveable sticks and a push-button. The right stick controls the throttle, the left stick controls the rudder, and the button controls the elevator.
The controls are not proportional like a conventional RC airplane. The rudder and elevator are either fully deflected or not deflected at all, and the elevator only deflects upward. In other words, moving the sticks half way doesn't move the control surfaces half way as you would expect with a "hobby grade" radio system.
The throttle is also completely different than a conventional RC aircraft. Each time you push the throttle forward it goes to a higher speed, for total of 4 speeds. It's almost like changing gears in a car.
The Hydro-Fly 2 flying boat comes with the 3-channel FM 27Mhz transmitter.The 8-cell 350 mah NiMh rechargeable battery pack with a DC quick charger are included.What is really nice about Megatech Hydro Fly 2 is that it comes with three extra props and two tubes of foam glue for repairs.
Length: 18" (457mm)




Wingspan: 19" (483mm)

Height: 5" (127mm)

Range: 1000ft (305m)

3-channel 27Mhz transmitter

9.6V 8-cell NiMh 350mah battery pack

DC quick charger 
RC Flying Boats on eBay
Flying boats have become very popular ever since the original Michael Connally design. Below are a few of the spin off's of the original design on eBay.
A lot of times you can get really good prices on eBay, but always remember to check the shipping costs before placing a bid. The shipping cost for some of the larger Hydrofoam flying boats on eBay are a bit high, so be careful to take that into consideration when placing a bid.
More ways to fly from water...
If you think RC flying boats are cool, but would rather fly an airplane from the water, you may find these articles helpful...
---
---