Hangar 9 Trainer Planes
As you probably know, Hangar 9 is a very well respected manufacturer of quality RC Airplanes. As far as trainers go, they're known for their Arrow and the Alpha trainers. 
Unfortunately the Arrow is no longer in production. However, their flagship Alpha Trainer is now available in both RTF and ARF form.
The Alpha DSM2 RTF

Hangar 9's Alpha DSMS RTF is a very popular high-wing, flat-bottom airfoil trainer. This  planes provides a very economical to get started flying RC. It also take all the guess work out of choosing the engine and radio gear.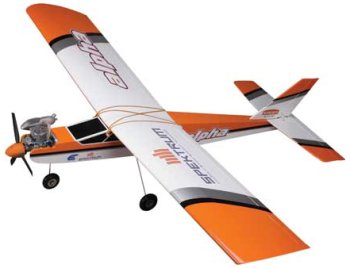 Wingspan: 63 in  Overall Length: 52.5 in

This nice little package includes the Evolution Power trainer System and the Spektrum DX5e radio system for less than $200.
I had the Evolution Power trainer System on my first RC airplane, the Sig LT 40. The three bladed prop tamed her down quite a bit and really slowed her down on the landings.
Once I was comfortable flying solo I replaced the 3-blade prop with a standard 2-blade prop and it literally felt like I upgraded to a larger engine.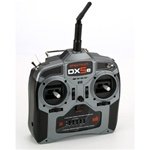 The only drawback of the Alpha DSMS RTF package is the DX5e transmitter. Don't get me wrong, it's a good radio.  But it's not a computerized radio which means there is no model memory for setting up multiple planes.

You can't set up any type of mixes with the DX5e either so it's no good for flying helicopters. You also can't set up exponential rates that you'll definitely want with future airplanes.
In other words, it's a good radio for your first airplane, but you'll quickly outgrow it if you plan to stick with the hobby.
The 9 Alpha 40 ARF

If you really like the Alpha 40, but would rather provide your own 40 to 46 size engine and your own radio equipment then you'll be happy with the Alpha 40 ARF.  This option will allow you to invest in a radio that will allow you to grow with the hobby.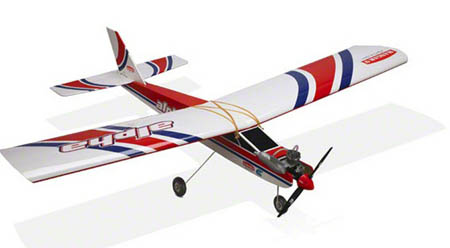 You've probably noticed the covering scheme is a bit more Patriotic compared to the bright orange scheme of the RTF.


If you'd rather power her with electric components instead of a nitro engine, a Power 25 brushless motor will pull her through the air with ease.