Most Popular EDF Jets!

Powerful and extremely fast EDF jets are not for the faint at heart. Electric ducted fan units coupled with today's electric motor and battery technology make it possible to experience the adrenaline of high speed RC flight without dropping thousands of dollars on a turbine engine.
Personally I''m a big fan of E-Flite''s ducted fan jets. E-Flite by far offers the quickest and easiest way to get an impressive fast flying high performance jet in the air. They have three jets that are designed around the same E-flite Delta-V 15 fan.
ParkZone Habu 2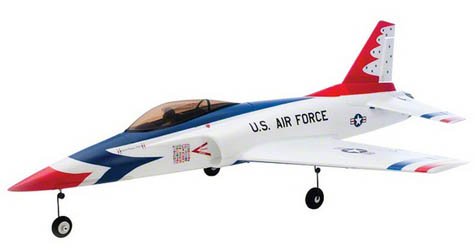 The Z-foam constructed ParkZone Habu screams through the air in excess of 80mph with the E-flite Delta-V 15 fan coupled with a 3200 mAh 4s pack. Get this bad boy in the air in less time than it takes to charge the battery with the Bind-n-Fly version.
E-Flite Habu 32 Jet

The ParkZone Habu was such a success that E-flite quickly came out with a bigger, better, and faster fiberglass Habu 32. This E-Flite Habu 32 is designed for an E-flite Delta-V32 80mm fan unit powered by a 2150Kv DF32 brushless motor. You're talking some serious thrust!
The Habu32 is the first Platinum Series electric ducted fan jet from E-flite which means its quality construction and attention to fine details is astonishing. She has a shiny fiberglass fuselage with fully sheeted carbon reinforced wings and stab along with sharp looking machined aluminum wheels.
Add the optional E-Flite retracts and you have yourself a fine looking piece of machinery!
E-Flite Sabre

If you think you're man enough to handle it, consider E-flite's F-86 Sabre. With the same E-flite Delta-V 15 fan and 4S pack, this jet fighter legend will put on a impressive show. Just make sure to keep her hot on the landings!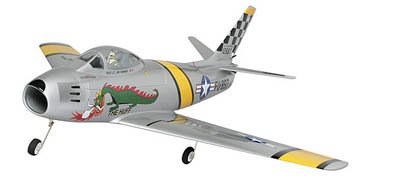 If you buy E-Flite you can rest assured that you're getting a quality product with plenty of spare parts available and great customer support. I will personally vouch for them, they are a great company.
Related Pages...