E-Flite F86 Sabre 15 DF ARF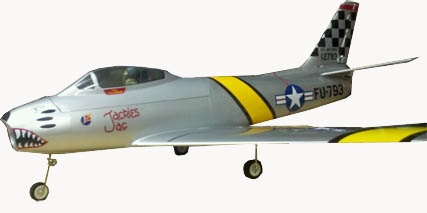 The E-Flite F86 Sabre 15 DF ARF is an extremely accurate scale version of one of the greatest fighter jets of all time. It's very clean lines, lack of cheater holes, and notably well designed intake make it arguably the sharpest looking electric ducted fan jet on the market.


It's construction is very similar to E-Flite's BAe Hawk 15 DF ARF's
fiberglass fuselage and vertical fin with wood sheeted wings and tail feathers. The wings actually glue into place leaving you with a one piece airplane. Most of the trim scheme and fine details are completed for you.
From the image to the right you can see that you are provided with 3 different sets of nose art schemes so your F86 Sabre will be different from all the rest!

It has an easy access magnetic hatch for access to the battery and fan unit. The fan unit actually slides into place through the hatch.
The E-Flite F86 Sabre 15 DF is equipped with a simulated cockpit, although you'll have to provide your own pilot figure.

Unlike the BAe Hawk, E-Flite's Sabre is a 4 channel airplane with full rudder and nose wheel control.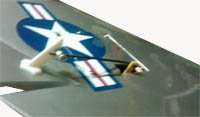 There are two aileron servos, one elevator servo, one rudder servo, and one servo for steering. It is recommended that you use at least a 6 channel radio with AR6200 receiver or equivalent


It is designed to be powered by the same 3200 KV Delta V Fan system, 4S 3200 mAh 30C battery pack, and 60 Amp Pro BEC E-flite that is used with the very popular Parkzone Habu EDF.
If you've seen the Habu in action, imagine the same power system in a lighter more sleek airframe. What you get is raw speed and performance!

Looks like E-flite has once again exceeded expectations with another well designed product. If you've been looking for a high performance true to scale EDF, this may just have you're name all over it. You really can't beat an EDF of this caliber for under $200.
Go ahead and treat yourself!

Please share any videos or personal experiences with the E-Flite Sabre in the comments below.