Converted Midwest Super Hots 60
by Ken
(El Cajon, CA)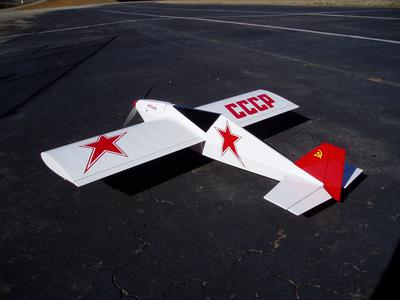 Originally built around 1989 and powered with a Super Tigre .60, I recently converted my Super Hots to electric power and completely finished it.


I used a Hobby People G-46 motor, a Castle Creations 75 amp Edge ESC, and a Thunder Power 5S/4500 mAh battery. Control is my good old Airtronics RDS8000.
The modifications I made were to add an air scoop under the cowl and access hatches for the battery and motor. The balance point came out exactly spot on, and I actually dropped a couple ounces of weight!
It flies even more smoothly now than it did before, and it still has all of the great flying characteristics of the design!
The G-46 gives it PLENTY of power for all of the aerobatics it can do, and it flies as if it were on rails - absolutely predictable, and with NO bad habits!